I'm super excited to be participating in some reading challenges again! I took last year off because I needed a break but now I'm ready to get back to them! I picked several this year but most of them are really laid back. The biggest challenge was the TBR Pile challenge because I needed to pick my books ahead of time and will need to keep track throughout the year of when I read them and review them. Some of the challenges have giveaways associated with them, but I'm mostly doing this for my own sake and won't really be keeping up with those requirements. I ended up choosing the Around the World Challenge because I'm interested in seeing where on a map the books I read take place, A Series a Month challenge because I really need help finishing series, the Debut Author Challenge because I always think this one is fun, a TBR Pile challenge because if I need help with anything it's reading the older books that I already own, and a Book Blogger Organization challenge because I need to update and organize my blog really badly. Here are the challenges in more detail:
Around the World Reading Challenge by All About Books: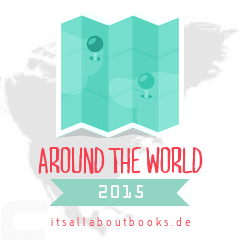 The goal is easy, read as many books set in as many different places as possible. I've set up a Google Map so I can keep track of the locations of the books I read. There are also a ton of mini-challenges, like reading one book for every state in the US. I'm not going to specifically be trying to complete any of the mini-challenges, but I'm going to keep track of stuff and if I get close, then I might try. Mostly I'm just interested in seeing on a map where the books I read are set.

A Series a Month by Love at First Page:
I wrote a post a few months ago about how I have a horrible time finishing series. Now that the new year is here, I'm officially making it a goal for 2015 to finish one series a month. It could be one I haven't started yet, it could just be one that I haven't finished yet. Either way, this challenge is super relaxed and just focuses on reading those series that we've put off so far and reducing our TBR piles. The only rule is that the series must have at least 2 books already published. I'm really excited for this one!
A few series I'm hoping to finish/read this year: The Girl of Fire and Thorns, Defiance, Daughter of Smoke and Bone, and Shatter Me.
January-
Altered Series – Reborn by Jennifer Rush
2015 Debut Author Challenge by The Artsy Reader Girl:
The goal of this challenge is to read 12 2015 Debut MG/YA/NA Authors over the year and write your thoughts on the books. You can post reviews to your blog, Goodreads, YouTube, Amazon, etc. In order to count for the challenge, books must be published in 2015 and be read in 2015. Other than that, it's open. You choose the books you want to read and when. (These are just an idea.)
Red Queen by Victoria Aveyard
None of the Above by I.W. Gregorio
Simon vs. the Homo Sapiens Agenda by Becky Albertalli
An Ember in the Ashes by Sabaa Tahir
Mosquitoland by David Arnold
The Night We Said Yes by Lauren Gibaldi
Under a Painted Sky by Stacey Lee
Lock & Mori by Heather Petty
The Wrath and the Dawn (The Wrath and the Dawn, #1)

by

Renee Ahdieh
Written in the Stars

by

Aisha Saeed
Court of Fives (Court of Fives, #1)

by

Kate Elliott
Because You'll Never Meet Me

by

Leah Thomas
2015 TBR Pile Challenge by Roof Beam Reader:
The rules for this one are a little more detailed. Read 12 books throughout the year that have been on your TBR Pile for more than a year. That means no book published after 12/31/13 counts. Also, you must make a list to go on your sign-up post and update the list throughout the year when reviews get posted. So here are the 12 books from my TBR Pile (plus two alternates) that I plan on reading this year:
Cinder by Marissa Meyer
Scarlet by Marissa Meyer
Sabriel by Garth nix
The Lies of Lock Lamora by Scott Lynch
It's Kind of a Funny Story by Ned Vizzini
Howl's Moving Castle by Diana Wynne Jones
The Crown of Embers by Rae Carson
The Bitter Kingdom by Rae Carson
Unravel Me by Taherah Mafi
Boundless by Cynthia Hand
Mistborn by Brandon Sanderson
Grave Mercy by Robin LaFevers
Stormdancer by Jay Kristoff
Hopeless by Colleen Hoover
Real Book Challenge by Swoony Boys Podcast and Fiction Fare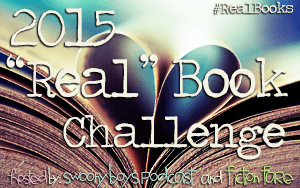 I'm joining in Swoony Boys and Fiction Fare on the Real Book Challenge which challenges us to pick up the physical books on our shelves and read them. Any books counts as long as you can hold it in your hands and turn real pages. I've never kept track of what kind of books I've read before so I don't know what a reachable goal is based on what I'm thinking I read last year, I'm going for Real Book Queen and hoping to read 55 real books. I'm not going to list them here but will keep track on the challenge page as I go.
Book Blogger Organization Challenge by The Book Addict's Guide

I'm most definitely participating in the Book Blogger Organization Challenge hosted by Brittany at The Book Addict's Guide. There are guidelines for each month that will help organize and clean up and update your blog. Everything is based on how much you want to do with a monthly guide to help you along. It only lasts through June for now, but even that will help me get some things organized and cleaned up here! If you want to join up, you can do so whenever! And there's no sign-up post needed. So if you have a blog and want some help getting it organized, check this challenge out!
Goodreads 2015 Reading Challenge by Goodreads
I've set my 2015 Reading Goal at 110 books. This will be a bit of a challenge but I've continuously read more and more books each year. I reached 107 last year so I'm hoping 110 is reachable. But it will definitely be a challenge!
Related Posts