Waiting on Wednesday is hosted by
Breaking the Spine
as a way for us to showcase the books we're highly anticipating.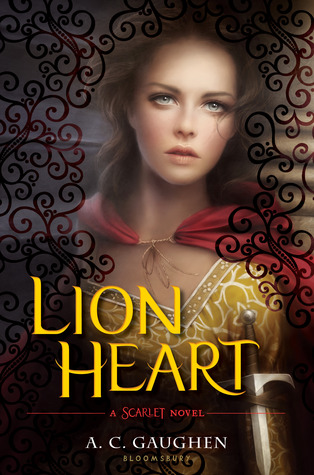 Lion Heart

by A.C. Gaughen
Series: Scarlet #3
Published by Bloomsbury USA on 2015-05-19
Genres: Fairy Tales & Folklore, Love & Romance, Retelling, Young Adult
Pages: 304
Amazon • Barnes and Noble • Book Depository
Goodreads

The eagerly-awaited conclusion to the Scarlet trilogy delivers another action-packed and romance-filled adventure.

Scarlet has captured the hearts of readers as well as the heart of Robin Hood, and after ceaseless obstacles and countless threats, readers will finally find out the fate of the Lady Thief.

Imprisoned by Prince John for months, Scarlet finds herself a long way from Nottinghamshire. After a daring escape from the Prince's clutches, she learns that King Richard's life is in jeopardy, and Eleanor of Aquitaine demands a service Scarlet can't refuse: spy for her and help bring Richard home safe. But fate—and her heart—won't allow her to stay away from Nottinghamshire for long, and together, Scarlet and Rob must stop Prince John from going through with his dark plans for England. They can not rest until he's stopped, but will their love be enough to save them once and for all?
Have you guys read this series yet? If you haven't, I'm telling you right now that you must. To be fair, I kind of have a thing for Robin Hood, so I might be a bit more biased than some, but still, these books should be read. They will rip your heart out. In a good way. I think. They're highly emotional and full of action and have great characters. It's an interesting twist on the original story and I love every bit of it. After the end of Lady Thief, I just really really need this book. I highly recommend putting these books on your TBR lists if you haven't read them. Though you might want to start reading them when the last book comes out because I promise you the wait will be killer! I'm slowly dying over here waiting for May to finally get here!
What are you waiting on this week?
Related Posts