Top Ten Tuesday is hosted each week by The Broke and The Bookish and allows us to combine our love of books with our love of lists. This week's topic is: Top Ten Books On My Winter TBR.
I completely failed at my Fall TBR and only read four of the books on that list. I'm not really sure what happened, I just didn't end up getting my hands on most of those so I didn't end up reading them. But even though I didn't read those, I'm still going ahead and making a Winter TBR. Whether I read them or not, it's still fun to make lists and think about all the great books that are coming out. And I'm already starting out ahead because I already have my hands on six of these books! Hopefully, that'll make it easier to stick to the list. Here are the books I'm most looking forward to reading this winter.

Breaking the Rules by Katie McGarry: 
If there is a Katie McGarry book coming out it will be on one of these lists. I'm especially excited to get another chance to see Noah and Echo. Less than 2 weeks until this comes out!
Mr. Kiss and Tell by Rob Thomas: 
It's more Veronica Mars. I'll always be excited about that.
The Strange and Beautiful Sorrows of Ava Lavender by Leslye Walton: 
This is a book club book. Honestly, I have no idea what it's about but I'm looking forward to reading and discussing it!
I Was Here by Gayle Forman: 
Gayle Forman!! Again, she'll always be on these lists if she has book coming out!
I'll Meet You There by Heather Demetrios: 
I haven't read any of her books yet but I've heard so many good things about this one, it's definitely on the list!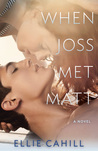 Red Queen by Victoria Aveyard: 
This is another book that I've heard great things about. Plus, I absolutely love the cover.
Grasshopper Jungle by Andrew Smith: 
This is a book I bought a while ago right after I read Winger. It's a book club book in January and I'm excited for it to finally be moved to the top of the TBR pile!
Seeker by Arwen Elys Dayton: 
I'm so excited for this one! It says for fans of A Game of Thrones and The Hunger Games and it's fantasy. I hope it's good!
The Start of Me and You by Emery Lord: 
I am so excited for this book! I'm waiting for the perfect time to pick it up. Some day when I have hours to just sit with it and not have to do anything else. That will be the day I pick this up. I know I won't want to put it down without finishing it!
When Joss Met Matt by Ellie Cahill (aka Liz Czukas): 
I've read two YA books by Liz Czukas now and they were both fun and cute. I can't wait to see what she'll do with New Adult. I was so excited to be approved for this one! I'll definitely be reading this soon.
What books are on the top of your reading list this winter?
Related Posts