As you may have heard me say before, I don't particularly enjoy writing up DNF reviews. But as I get more and more books that I want to read, it gets harder and harder for me to keep reading books that I just have no desire to finish. There are so many books out there. I really don't see a need to force myself to finish ones I just don't want to. So I'm DNFing more books than I used to. And because I feel like I need to explain why I DNFed books, I wrote up some short mini reviews to share my reasons why I just don't want to finish my most recent DNFs. Please don't hate me. I'm actually really sad about these books.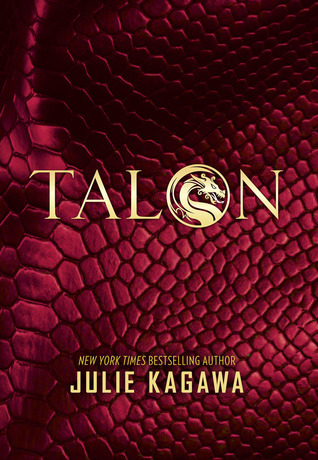 Talon (Talon #1) by Julie Kagawa
YA Fantasy (?)
Published by HarlequinTeen on October 28, 2014
*Received an ARC during a giveaway at BookCon '14*
Guys, I actually feel really bad about this one. Every one gets so excited about new Kagawa books but there's just something about her writing that doesn't click with me. I just really don't care about the characters in this book or the story. It was the same with The Iron King, I trudged through that one but just didn't care. And at least in that one there was some interesting world building. In this book, they just dump the characters on a beach town in California. So we've got dragons in human form trying to act like teenagers, when in fact they already act exactly like teenagers, and dragon killers dumped in the same town to find said teenagers by acting like normal teenagers and becoming friends with the local teenagers. We also have some sort of rogue dragon who turns up and convinced Ember to go out with him and break the rules by flying around the ocean as a dragon. Enter love triangle. One interest in set to kill her when he finds out who she is, the other is bad boy know it all who wants to convince her everything she's ever known is a lie. Seriously, if I didn't know Kagawa was such a beloved author and had other successful series, I would have bet it was a debut. It wasn't what I was expecting at all. If a book is going to be sold as a dragon book, I want to see dragons. Not regular teenagers who sometimes turn into dragons and fly over the ocean. Also, I don't know why she kept referring to her dragon state, her natural form, as "my dragon". I mean, I guess it makes sense that she would call it that but I got seriously distracted by it. It makes it seem like some sort of body part rather than who she is. But anyway, my main reason for not finishing this is just that I don't care. My expectations for this were clearly very wrong. It's simply a book about teenagers. I wanted a full history on the dragons and Talon and St. George and the war between them and I didn't get that. To be fair, I did stop at about 33%, so it could be in there later, I just didn't care anymore at that point. I hope you guys like this more than I did. If you end up reading it.
The Scandalous Sisterhood of Prickwillow Place by Julia Berry
MG Historical Fiction/Mystery
Published by Roaring Books Press (Macmillan) on September 23, 2014
*Received an eARC from the Publisher on NetGalley in exchange for review*
I was so looking forward to this one. It sounded like so much fun. And when I started it, it was fun. But it got irritating pretty quickly for me. For starters, there is an adjective in front of the characters names. It's how they're introduced in the story but then it stays with them. Every time they're mentioned. At least as long as I read, around 30ish%. I just got tired of it. Also, and this probably isn't entirely fair to the book, but while it was fun, it just wasn't as good as the Finishing School series and I couldn't help comparing it to those books every time I picked it up. This book is set in a school and there's a mystery the girls need to solve and deceptions are occurring and it's historical fiction set in the Victorian era. I just couldn't help comparing the two and this one just wasn't as good as the other. I didn't connect to any of the characters like I did for the other series and if I don't feel anything for the characters or care what happens to them, I just really don't care about finishing the book. I would read a few pages, put the book down, and not feel like picking it back up again. So I DNF'd it. At least for now. I could see eventually picking this one back up. I did enjoy parts of it and it did have a similar feeling to the movie Clue. I don't know if you guys have ever seen that but this felt like a middle grade version set in a Victorian Era school for girls. There were definitely fun times. And I do think there is a good audience out there for this book. I just didn't care much for it. If you enjoy just plain silliness and ridiculous plot twists, I think you might enjoy this book.
Famous in Love (Famous in Love #1) by Rebecca Serle
YA Contemporary Romance
Published by Poppy on October 21, 2014
*I won a free copy from the Publisher in a giveaway*
I made it till almost 50% in this one before calling it. I kept hoping I'd want to continue reading it and start caring about the characters, but I just never did. Add to that all of the other books I DO want to read and I just had to stop with this one. This book tells the story of Paige, a girl picked from thousands to star in the next big YA book to movie adaptation alongside one of the biggest male stars today. The problem is that we get just glimpses of the past but skip over some of what should have been the good parts (auditions, getting the news that she was chosen, early moments with Rainer) and cut to the middle. Also, it's always hard to feel sympathy for characters who are rich, enjoying experiences that almost no one else does, and who just complain and act really immature. Add to that some weird connection with Jordan (I didn't stick around long enough to know for sure whether this became a triangle or not, but my guess is it did.) and I was just done. I did not like the characters, I did not like the relationships (romantic and friendships) that were happening, I did not believe that Paige is the one they would pick for this role because I saw absolutely nothing unique in her nor do I like that we completely missed out on the anticipation of the auditions and the excitement of getting the role, and I just don't really care what happens. I wanted to be able to appreciate this for the fluffy, fun romance that it was but all I could think about what how much it felt like a peek at what was going on behind the scenes during the filming of Twilight. The high-profile YA book turned movie, a love triangle, and a bunch of things that I just don't care about. I hope that maybe someday I'll be able to pick this back up and enjoy it for what it is, but today is not that day. I hope you guys can enjoy it more than I did!
Related Posts