I received this book for free from HarperTeen via Edelweiss in exchange for an honest review. This does not affect my opinion of the book or the content of my review.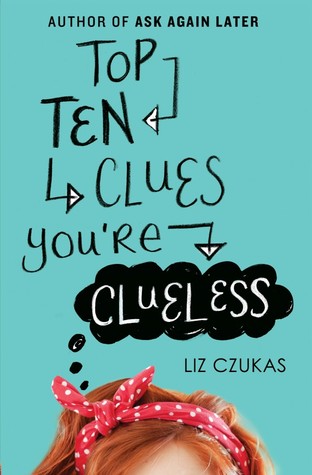 Top Ten Clues You're Clueless

by Liz Czukas
Published by Harper Collins on 2014-12-09
Genres: Contemporary, Love & Romance, Young Adult
Pages: 304
Format: eARC
Source: HarperTeen via Edelweiss
Amazon • Barnes and Noble • Book Depository
Goodreads

Top Five Things That Are Ruining Chloe's Day

5) Working the 6:30 a.m. shift at GoodFoods Market

4) Crashing a cart into a customer's car right in front of her snarky coworker Sammi

3) Trying to rock the "drowned rat" look after being caught in a snowstorm

2) Making zero progress with her crush, Tyson (see #3)

1) Being accused—along with her fellow teenage employees—of stealing upwards of $10,000

Chloe would rather be anywhere than locked in work jail (aka the break room) with five of her coworkers . . . even if one of them is Tyson. But if they can band together to clear their names, what looks like a total disaster might just make Chloe's list of Top Ten Best Moments.
This book was just as cute as Liz's first book, Ask Again Later. I highly recommend both for books that will put a smile on your face. This book has the added bonus that it takes place on Christmas Eve. While it isn't exactly a Christmas romance, it will help you get in the holiday spirit.
One of the best, and I think most unique, things about this book is the setting. It takes place, almost entirely, inside a grocery store. I've never read a book with a setting like that. Chloe and her fellow employees are working Christmas Eve, one of the busiest days of the year. But a theft has occurred and the store manager requires the five younglings (the teenage employees) to stay behind because he believes they were behind it. Of course he can't really require it so he's more asking, but they all stay behind because they know they didn't do it. Or at least they don't think they did. The majority of the book takes place while they are waiting for the cops. And what happens is a lot of detective work, some getting to know each other activities, and several arguments. Hopefully not giving too much away, it turns out to be a bit like The Breakfast Club, except instead of school it's a closed grocery store. It's fun and I definitely recommend it.
The best thing about this book is just how much fun it is. The lists make this book funny and actually made me think about my own grocery store habits. It never occurred to me how much people who work at the grocery store must see until I read this book. And they must see a lot! The lists definitely made me giggle. (And cringe a little wondering whether I might have made someone's list somewhere along the way!) Also, the dialogue was really good. It never gets too deep, even when discussing things like race and religion. It stays on the surface a lot, never getting too serious but it doesn't brush off those topics either. I really appreciated the diversity among the group working at the store. I liked all of the characters and enjoyed getting to know them, laugh with them, and solve a crime together!
I will say that I got a bit annoyed with the MC a bit in the middle and the way she brushed off her diabetes and didn't take care of herself like she should have known to. Because she doesn't tell anyone about her diabetes, no one knows what she needs while they're being kept after hours. It was easy to see what was coming in regards to how she treats herself very early on and I kept hoping it wasn't going to play out how I thought it was going to but it did and that made me a little sad. I felt like it could have been handled so much better. But it certainly didn't ruin the book for me or anything. Just a minor annoyance, the fun and cuteness of the book still wins out!
I definitely recommend this book, as well as Liz's other book Ask Again Later. They're both fun and cute and quick reads. This one takes place on Christmas Eve, so it'll be perfect timing! And then you can pick up Ask Again Later for prom season! Seriously, if you're looking for a fun book, definitely check these out.
Related Posts