I received this book for free from the Publisher via NetGalley in exchange for an honest review. This does not affect my opinion of the book or the content of my review.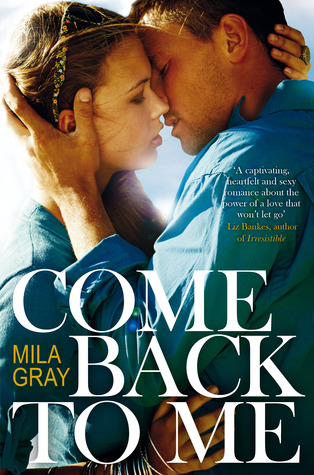 Come Back To Me

by Mila Gray
Published by Macmillan, PAN on 2014-10
Genres: Contemporary, Military, New Adult, Romance
Pages: 352
Format: eARC
Source: the Publisher via NetGalley
Book Depository
Goodreads

Home on leave in sunny California, Marine and local lothario Kit Ryan finds himself dangerously drawn to his best friend's sister, Jessa - the one girl he can't have.

But Kit's not about to let a few obstacles stand in his way and soon Jessa's falling for his irresistible charms.

What starts out as a summer romance of secret hook-ups and magical first times quickly develops into a passionate love affair that turns both their worlds upside down.

When summer's over and it's time for Kit to redeploy, neither Kit nor Jessa are ready to say goodbye. Jessa's finally following her dreams and Kit's discovered there's someone he'd sacrifice everything for.

Jessa's prepared to wait for Kit no matter what. But when something more than distance and time rips them apart they're forced to decide whether what they have is really worth fighting for.

A breathtaking, scorchingly hot story about love, friendship, family and finding your way back from the edge of heartbreak.
I wasn't sure what to expect with this book because I haven't read any of Sarah Alderson's books but the synopsis sounded compelling so I went with it. And I  have to say, it was impossible not to get completely caught up in the emotions of this book. I feel like New Adult romances can be very hit or miss for me but this one was definitely a win. Very well done. The characters weren't always my favorite but I was cheering for them the whole time and really wanted a happy ending for them.
The book starts out with a huge moment. We don't really know the characters or their stories yet but we know this moment going to bring out lots of emotions towards the end of the book and because we sort of know what's coming now, it changes the way the book reads. Instead of not knowing what's going to happen and reading freely and hoping for all good things, we are a bit more cautious. I found myself feeling things and hoping things for Kit and Jessa and other characters and then reminding myself that this scene is coming and thinking maybe there was a way to avoid it, to save the characters (and myself) from the heartache that was coming. But I couldn't. Kit and Jessa made it impossible for me to not want them to be together. And when you're reading a romance, even when you think you know what's coming, you want to want the characters to be together. And those feelings coupled with the feelings from earlier in the book created very layered emotions for me. I definitely liked how it was done.
Another one of my favorite part of the book was the chemistry between the two characters. But there were a couple of things I wasn't a huge fan of. In the beginning, we know that Jessa has had a crush on Kit for a long time. We also know that Kit has a history of being a bit of a player. The two have been friends for a long time because Kit is Jessa's brother's best friend. But her father does not like him at all and blames Kit for anything bad her brother has ever done, whether he was responsible for it or not. But the thing I didn't really like was that Kit and Jessa get together rather quickly. They're drawn together and that's fine, there just wasn't a lot of build up or much to make me believe that what they were feeling was more than just crushes. And then they decide they need to keep it all a secret so they sneak around for quite a while. I never understand why characters think this is the way to go. But it's what happened and it was fine, just not my favorite part.
I loved Kit's dad and liked learning about Jessa's family. It was interesting to hear about their pasts and while I don't want to give anything away, I will say that it became fairly obvious what had happened in the past and I wish it could have just been left out so the younger generation could figure out their stuff in their own way without the past influencing them in that way and making other's feel bad. It's hard to explain without giving it away but it just seemed to take away more from the characters than it gave.
Overall, I really liked this book. I read it very quickly and with the big, emotional scene at the very beginning of the book, I was hooked. I had to know what was leading up to that moment and what the outcome of it was going to be. I also really liked the characters, though not all of their choices, and couldn't help but get swept up in their romance. The emotions are very high in this book and run the range from extremely happy and content and deeply in love, to pain and anger and hurt and depressed. So be prepared when you start this. You will get hooked and you will feel things. I definitely recommend this book to fans of NA Romances.
I do want to say when I was approved for this book for review,I thought it was going to be released in the US in October. Now I've seen that it's not out until much later here. But the book has been published in the UK so if you would like it now, you can order it from The Book Depository.
Related Posts