I received this book for free from the Publisher at BookCon in exchange for an honest review. This does not affect my opinion of the book or the content of my review.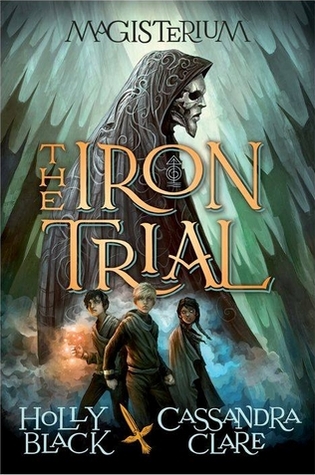 The Iron Trial

by Cassandra Clare, Holly Black
Series: Magisterium #1
Published by Scholastic Inc. on 2014-09-09
Genres: Fantasy & Magic, Friendship, Middle-Grade
Pages: 295
Format: ARC
Source: the Publisher at BookCon
Amazon • Barnes and Noble • Book Depository
Goodreads

Most kids would do anything to pass the Iron Trial. Not Callum Hunt. He wants to fail. All his life, Call has been warned by his father to stay away from magic. If he succeeds at the Iron Trial and is admitted into the Magisterium, he is sure it can only mean bad things for him. So he tries his best to do his worst - and fails at failing. Now the Magisterium awaits him. It's a place that's both sensational and sinister, with dark ties to his past and a twisty path to his future. The Iron Trial is just the beginning, for the biggest test is still to come . . . From the remarkable imaginations of bestselling authors Holly Black and Cassandra Clare comes a heart-stopping, mind-blowing, pulse-pounding plunge into the magical unknown.
I wish I had some really good things to talk about in a review for this book but I just don't. This book is way too similar to Harry Potter for me to be able to like or recommend it. I feel horrible about this, especially because Clare's The Infernal Devices series is one of my favorites. But this book does not offer good enough writing or an intriguing enough plot for me to be able to forgive the similarities. For me, if you're looking for a book about a boy who is an outcast and a wizard who attends a boarding school to learn how to control his magic, meets some friends (one boy and one girl), is taken under the wing of one of a top mage, has a physical reminder of an early encounter with evil wizards, and who's mother died during that encounter, I'd strongly recommend the Harry Potter series. Not this one.
Callum Hunt is a wizard but doesn't want to be. All throughout his childhood, his father warned him about magic. When he comes of age he is required to sit for a test to see if he has the potential to be a magician. If he passes the test, he must remain at the Magisterium to learn how to control his magic. We know, of course, that he will be taken into the Magisterium, or else there would be no book. At school, he is chosen by one mage to be their apprentice. Call is chosen along with one boy and one girl by one of the best mages. They learn under him, they sleep in the same area, eat at the same table, and learn to be a team. But Callum has been taught all of his life to hate magic. So while he's at school he must decide for himself what magic means to him and if he will want to stay after his first year. He sees the parts of magic he was warned about but his friends show him other parts that he knew nothing about. Some were secrets kept from him by his father. Secrets about the night his mother was killed. Secrets about dark magic. Secrets that Call wants to know. But doesn't know where to get answers or who to trust. I won't give anything away but by the end of the book he knows who he wants to trust and how he feels about magic and learns the answers to a lot of questions he had. And some he didn't.
I had such a hard time with this book. As I was reading in the beginning, I was really enjoying it. I liked Callum and his father. I like the attention grabber in the prologue. And I like the tests at the Magisterium. Unfortunately, the similarities to Harry Potter just kept sneaking in. A few here and there I get. Stories about boy wizards are bound to have things in common. And perhaps it's just that Harry Potter is my favorite book series ever so seeing a book with a lot of similarities just annoys me. But whether it's me or not, there are more than enough parallels to Harry Potter in The Iron Trial for me to forgive. I can't even say what they all are because I don't want to spoil this book but I definitely saw a lot. If this would be a problem for you to, you should skip this book.
I will say that this book isn't EXACTLY like Harry Potter. There are definitely some differences. But I just can't forgive all of the similarities. I can't. I'm sure some people can. And that's great. If you want to read this book, definitely go for it. I'm going to have my son read it so I can see what he thinks of it. He is also a Harry Potter fan but is also the age that this book is geared towards. It could just be that I'm too old for this book. It didn't have the heart and intrigue that I wanted, especially from a Clare book. Books for kids don't have to be boring and emotionless. Still, I think some kids might really enjoy it. It did have some interesting and diverse characters and a plot twist that will be more surprising to kids than it was to my older, jaded self. Like I said earlier, I will be handing this to my son to see what he thinks, and I think he'll enjoy it enough, but for me, there were just too many parallels to the Harry Potter series for me to be able to like it. If you do decide to give it a try, I really hope you enjoy it.
Related Posts