I received this book for free from Around the World ARC Tours in exchange for an honest review. This does not affect my opinion of the book or the content of my review.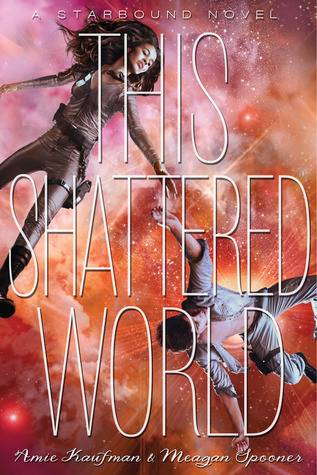 This Shattered World

by amie kaufman, Meagan Spooner
Series: Starbound #2
Published by Disney-Hyperion on 2014-12-01
Genres: Love & Romance, Science Fiction, Young Adult
Pages: 384
Format: ARC
Source: Around the World ARC Tours
Amazon • Barnes and Noble • Book Depository
Goodreads

The second installment in the epic Starbound trilogy introduces a new pair of star-crossed lovers on two sides of a bloody war.

Jubilee Chase and Flynn Cormac should never have met.

Lee is captain of the forces sent to Avon to crush the terraformed planet's rebellious colonists, but she has her own reasons for hating the insurgents.

Rebellion is in Flynn's blood. Terraforming corporations make their fortune by recruiting colonists to make the inhospitable planets livable, with the promise of a better life for their children. But they never fulfilled their promise on Avon, and decades later, Flynn is leading the rebellion.

Desperate for any advantage in a bloody and unrelentingly war, Flynn does the only thing that makes sense when he and Lee cross paths: he returns to base with her as prisoner. But as his fellow rebels prepare to execute this tough-talking girl with nerves of steel, Flynn makes another choice that will change him forever. He and Lee escape the rebel base together, caught between two sides of a senseless war.

The stunning second novel in the Starbound trilogy is an unforgettable story of love and forgiveness in a world torn apart by war.
I wasn't lucky enough to pick one of these up at BEA or ALA this year but I was lucky enough to be able to borrow a copy! I'm glad I took the chance to read it! For me, These Broken Stars was pretty unique and I wasn't sure how that could be followed up. I hadn't paid enough attention to know that this book didn't focus on Tarver and Lilac until right before I started it. Those things combined left me with some very conflicted feelings. Fortunately, after reading the book, I can say that my feelings toward the book are mostly positive. And that's much better than I was worried they'd be!
Because this is a very early review, I'm going to keep this review pretty generic. I don't want anything spoiled. If you read These Broken Stars then you know there are probably some big surprises coming your way with the sequel. You aren't wrong. Although the book is set in the same world as These Broken Stars, we aren't dealing with quite the same issues. Lee is a captain in the armed forced trying to keep the peace on Avon and Flynn is living as a rebel, trying to get food and medication for his people that had been promised to them by the corporations terraforming the planet but who never delivered. Lee and Flynn start as enemies. But when they start uncovering the secrets of Avon and learning about each others sides', they decide that working together might be the only way to save Avon for both of their people.
The best parts of this book are the uncovering of secrets. Just like in These Broken Stars, things don't always seem what they are. And people are sometimes even worse than you imagine they could be. But other people tend to surprise you in good ways as well. This book is all about how nothing is actually what it seems. And it's done just as well as it was the first time. My biggest regret with this book is that Tarver and Lilac aren't the main characters again. Lee and Flynn are good, but they just weren't as good for me. I did like their relationship and the way it developed but there just wasn't as much chemistry between them and I wasn't as emotionally invested with them as I became with Tarver and Lilac during their story.
Overall, I did very much enjoy this story. I liked getting to know more of the world from book one and meeting new people. I liked that this book takes place in a community and we get to meet more people and get more interactions than just those between the MCs. I did like Flynn and Lee and I liked their relationship. I won't give anything away but I can't wait to see what more people think of it. I definitely think that if you like the first one, you'll like this one. Once you get over that Tarver and Lilac aren't the MCs. I'm not sure what exactly it was about them, but I really did love them. If you haven't read these books yet and you're a fan of YA sci-fi, I would definitely recommend finding These Broken Stars ASAP and putting This Shattered World on your TBR list!
Related Posts