I received this book for free from Around the World ARC Tours in exchange for an honest review. This does not affect my opinion of the book or the content of my review.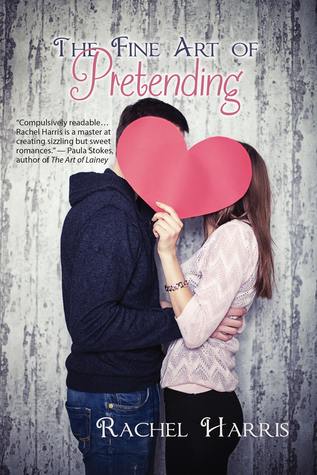 The Fine Art of Pretending

by Rachel Harris
Published by Spencer Hill Contemporary on 2014-09-30
Genres: Contemporary, Love & Romance, Young Adult
Pages: 256
Format: ARC
Source: Around the World ARC Tours
Amazon • Barnes and Noble • Book Depository
Goodreads

According to the guys at Fairfield Academy, there are two types of girls: the kind you hook up with, and the kind you're friends with. Seventeen-year-old Alyssa Reed is the second type. And she hates it. With just one year left to change her rank, she devises a plan to become the first type by homecoming, and she sets her sights on the perfect date—Justin Carter, Fairfield Academy's biggest hottie and most notorious player.

With 57 days until the dance, Aly launches Operation Sex Appeal and sheds her tomboy image. The only thing left is for Justin actually to notice her. Enter best friend Brandon Taylor, the school's second biggest hottie, and now Aly's pretend boyfriend. With his help, elevating from "funny friend" to "tempting vixen" is only a matter of time.

But when everything goes according to plan, the inevitable "break up" leaves their friendship in shambles, and Aly and Brandon with feelings they can't explain. And the fake couple discovers pretending can sometimes cost you the one thing you never expected to want.
I was really excited for this book. It sounded really cute and it has an adorable cover. But I have to be honest, it was kind of a letdown for me. I almost gave up in the beginning because the book just wasn't that good. I had a really hard time figuring out the characters in the beginning. And not being able to understand or connect with them made wanting to stick with it really hard. But I did and the end was much better than I originally thought it would be, so I'm glad I stuck with it. Overall, this book was enjoyable but not one of my favorite romances.
The Fine Art of Pretending is told in dual POVs. We get Aly, the sporty girl who's friends with all of the cute boys but never gets asked out, and Brandon, one of the cutest and most popular boys at school who's captain of the baseball team and best friends with Aly. Aly has decided that she doesn't want to be the friends girl anymore and decides she will make herself over and start her senior year off with a completely new look and attitude. Brandon isn't a huge fan of the idea but is willing to help Aly if she thinks this will make her happy. Once the decision is made and the makeover happens, the senior class goes on their annual campout, where the makeover and Aly/Brandon pretend hookup will be revealed. Of course, the makeover gets the reaction that Aly wants but with the new attention she's getting and the pretend relationship with Brandon also come a whole bunch of new and confusing feelings, for both of them. Aly needs to decide what she really wants and who she really is. And Brandon needs to figure out what he really wants and what his feelings really mean.
As I said above, I had a really hard time figuring out these characters and who they were in the beginning of the book. Another thing that made the beginning rough for me was this class campout. I didn't understand if it was sponsored by the school or if it was just a trip the students put together themselves. There were parents there but there didn't really seemed to be any real activities or any sort of structure to it. Just a lot of hanging out by the water in bathing suits and truth or dare games. I just had a hard time believing something like that happened with an entire school class. It didn't feel realistic but just an easy way for the whole senior class to be together with little supervision from adults and it was a little distracting for me. But once I got past that, I did enjoy it. And finally by about 25% in, I felt like the characters really settled into their voices and I started being able to connect with them.
I think my favorite part of the story was Aly's two best girlfriends. They stuck by her side, they looked out for her, they each had their own strong personalities, and you could tell that they all loved each other. One of the most surprising characters out of the group was Justin. I will not say why or what happens, but I was not expecting what happened with him and it's always nice to be surprised by something in a book. So while Aly and Brandon weren't my favorite characters, both groups of their friends were actually really good.
Overall, The Fine Art of Pretending was okay. It was a cute romance with some good characters and a fun premise. It wasn't anything revolutionary nor did it really cause me to spend time thinking about it much after I was done. It wasn't really about anything other than Aly and Brandon and the two of them discovering who they are and what they want. And that's perfectly fine. I think a lot of people will enjoy this book and like the romance that happens between characters. It's a good book if you want quick, fun, light YA romance.
Related Posts