Take Me On, Boomerang, I'll Give You the Sun

by Jandy Nelson, Katie McGarry, Noelle August
Series: Pushing the Limits #4, Boomerang #1

I've rounded up a few of the contemporary books I've read this summer and written a few quick mini reviews. These are all books I highly enjoyed and all books I recommend. Take Me On is the next book in Katie McGarry's Pushing the Limits series and it did not disappoint in the chemistry department. Boomerang is the first book in a new series by Veronica Rossi and Lorin Oberweger and is not suitable for the under 13 crowd. It was steamy. I'll Give You the Sun is the highly anticipated book from Jandy Nelson and it is intense. It is much lighter on the romance but does have GLBT elements. It's beautifully written and very smart. If you're a fan of YA contemporaries, I definitely recommend checking out these books. If you click on the covers, you will be taken to their Goodreads' pages.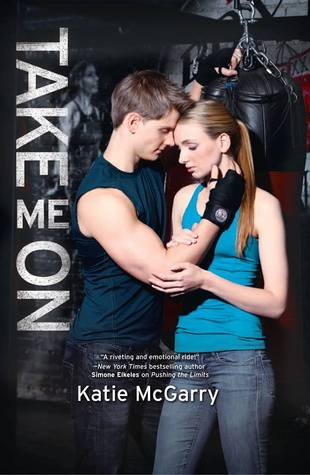 Take Me On (Pushing the Limits #4) by Katie McGarry
Young-Adult Contemporary Romance
Published by HarlequinTeen by May 27, 2014
Pushing the Limits has been one of my favorite contemporary series and Take Me On doesn't disappoint. We get the POVs of West (Rachel's brother from Crash Into Me) and Haley, a former kick-boxing title holder who quit after an incident that she has kept secret. The two of them run into each other, literally, and their lives become tangled. West is still feeling guilty from his involvement in Rachel's accident and Haley is trying to recover from the incident as well as her family being thrown out of their house and forced to move into their uncle's house who treats them all like trash. West and Haley work together to solve the problem they created and in turn fall for each other. The romance in this one was pretty good but I have to say that it wasn't my favorite. Haley was a bit of a pushover and a little too whiny for me this time and West just wasn't as good as the other male leads I've seen from McGarry. I think it may have been the fighting that turned me off a little but I just didn't feel this one as much. I liked West and was glad we got to see his growth in this book and figure out who he is. And I'm glad Haley got the chance to start standing up for herself. For me, though, Dare You To with Beth and Ryan is still my favorite of the series. Take Me On was a good addition, especially with so much of Abby in it, but it was a little too similar to the Crash Into You storyline and the characters weren't my favorite. I still definitely recommend fans of YA contemporary books to pick up this series. The chemistry is always intense and the romances bring all the feels.
Boomerang (Boomerang #1) by Noelle August
NA Contemporary Romance
Published by HarperCollins on July 8, 2014
Boomerang was a book I was really looking forward to because I'm a huge fan of Veronica Rossi's Under the Never Sky series. If you've read that then you know that Aria and Perry have some really great moments together. I couldn't wait to see how two authors would work together to bring that kind of romance into a New Adult contemporary world. And I'm happy to say that whatever they did together, it worked. In Boomerang, we get another book from dual POVs, Ethan and Mia. After a random night together that neither can remember because they were both drunk, they end up at the same office for the first day of their new jobs. Or internship, really. And only one. They find out on their first day that they will be competing for the summer for one position. And both really want the job. But being super attracted to each other is a huge complication. So they decide, based on a company policy of no dating co-workers, that they cannot see each other. The rest of the book is a series of meetings between the two, seeing their attraction not going away, and funny situations they end up because of work. What makes this book work and not end up as just a ridiculous rom-com is its heart. I did not expect to get so emotional while reading this book. It is mostly fun and light, but the emotions came out of nowhere and really took me by surprise. And it was a nice surprise. Because while I certainly didn't mind the scenes full of intense chemistry and kissing, the emotional depth is what really elevated this book for me. If you're looking for a fun summer romance book that's well-written, fast, full of chemistry, with heartfelt moments, I definitely recommend trying this one.
I'll Give You the Sun by Jandy Nelson
YA Contemporary
Published by Penguin on September 16, 2014
This book was intense. But I also highly recommend it. It did take me a little bit to get into and has a very unique writing style but once plot started moving, I could not put this book down. It is also told in dual POVs, twins Jude and Noah, and is amazingly well done, probably one of the best dual POVs I've read. Noah's POV takes place three years ago, when things between the twins changed. Jude's POV is told in the present day, when both twins are starting to discover that there is a lot more to their story than either of them know. And the way the two halves of the story come together is brilliant. I could never have predicted how this story would play out. It was so heartbreaking watching everything the twins went through and seeing them destroy themselves. But the end was amazing and so worth reading this book for. And the title. Can I talk about that for just a second? At first, I had no real idea what it stood for, I just figured it was one character wanting to make another really happy or something. But after reading it the title alone and what it stands for just about makes me tear up. It's absolutely perfect for this story. I'm so glad I got a chance to read this book. But I don't want to give you a false impression. Because while this book is sometimes funny and hopeful, it's also full of very dark moments. Some of it is hard to read. But if you've read The Sky is Everywhere, then you're probably already prepared for that. I highly recommend I'll Give You the Sun. It's one of those books that will make you think and gasp outloud and laugh and probably shed a few tears. So be prepared.
Related Posts