Waiting on Wednesday is hosted by
Breaking the Spine
as a way for us to showcase the books we're highly anticipating.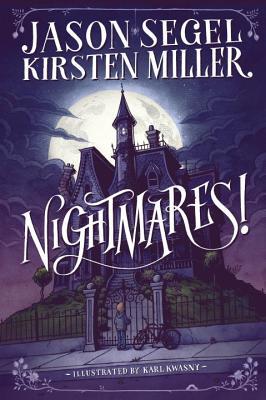 Nightmares!

by Jason SegelKirsten Miller
Published by Random House LLC on 2014-09-09
Genres: Action & Adventure, Friendship, Middle-Grade
Pages: 368
Amazon • Barnes and Noble • Book Depository
Goodreads

Jason Segel, multitalented actor, writer, and musician, teams up withNew York Times bestselling author Kirsten Miller for the hilariously frightening middle-grade novel Nightmares!, the first book in a trilogy about a boy named Charlie and a group of kids who must face their fears to save their town. 
 
Sleeping has never been so scary. And now waking up is even worse!
 
Charlie Laird has several problems. 
 
1. His dad married a woman he is sure moonlights as a witch.
2. He had to move into her purple mansion, which is NOT a place you want to find yourself after dark.
3.He can't remember the last time sleeping wasn't a nightmarish prospect. Like even a nap. 
 
What Charlie doesn't know is that his problems are about to get a whole lot more real. Nightmares can ruin a good night's sleep, but when they start slipping out of your dreams and into the waking world—that's a line that should never be crossed.
 
And when your worst nightmares start to come true . . . well, that's something only Charlie can face. And he's going to need all the help he can get, or it might just be lights-out for Charlie Laird. For good.
I have been a fan of Jason Segel's for a long time. When I saw he was going to be doing a panel at BookCon, I was so excited. When I saw he was writing a book, honestly, I kind of rolled my eyes. I believe Segel is very talented and like I said, I'm a big fan. But it just seems like celebrities are all writing books now, especially books for kids. But I went to his panel anyway because I wanted to see him (and Adam Gidwitz whose books we already love) and I'm so glad I did. The way he talked about this book really made me feel how much he believed in it and loved it. He said he wrote the story as a screenplay after Freaks and Geeks was cancelled but didn't end up doing anything with it until recently. Kristen Miller came in to help him adapt it from a screenplay to a novel. And I really cannot wait to read this book. He talked about his childhood and how a lot of what the characters deal with came from his own past and the nightmares he used to deal with as a child. Plus, the book just sounds awesome. I really hope it is. I'll be reading this one as soon as I can!
What books are you looking forward to today?
Related Posts