I received this book for free from Around the World ARC Tours in exchange for an honest review. This does not affect my opinion of the book or the content of my review.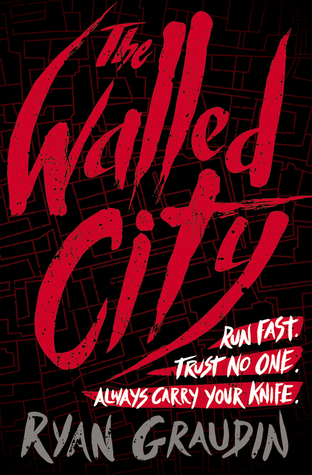 The Walled City

by Ryan Graudin
Published by Brown on 2014-11-04
Genres: Historical, Love & Romance, Social Issues, Young Adult
Pages: 448
Format: ARC
Source: Around the World ARC Tours
Amazon • Barnes and Noble • Book Depository
Goodreads

There are three rules in the Walled City: Run fast. Trust no one. Always carry your knife. Right now, my life depends completely on the first. Run, run, run.

Jin, Mei Yee, and Dai all live in the Walled City, a lawless labyrinth run by crime lords and overrun by street gangs. Teens there traffic drugs or work in brothels--or, like Jin, hide under the radar. But when Dai offers Jin a chance to find her lost sister, Mei Yee, she begins a breathtaking race against the clock to escape the Walled City itself.
This book was so surprising to me. I had almost no idea what this book was about when I started it but I got sucked in really quickly and then came to find out that it wasn't what I was thinking it was going to be at all. It's not science-fiction or dystopian. The Walled City was a real place. People lived liked Jin, Mei Yee, and Dai. Drugs, brothels, gangs, violence, hunger, and homelessness. They all existed in The Walled City. Laws did not. And reading about a real place and situations that could have been real changed how I felt about the book. I became more invested in the characters and the situations became more intense. I'm very glad I read this book and I hope you will consider putting it on your TBR lists for this November.
Because this is such an early review, I'm going to keep it short and not share too many details so as not to spoil anything. The Walled City is told from three different POVs. We get Jin, younger sister of Mei Yee and disguised as a boy, who has been searching the city and brothels for Mei Yee for two years. Mei Yee, who has been living in a brothel since being brought to the Walled City two years ago, and Dai, who is in the city for reasons unknown in the beginning but has a mission to complete before he can leave. And he's running out of time. Not too long into the book, our characters stories overlap and the different pieces are put together. In a city where no one can be trusted, the characters must decide if they can trust each other and what they're willing to risk to try to leave the Walled City.
I loved the three different POVs and felt for each of the characters and their situations and couldn't believe some of the things they had gone through. They all wanted to be different people in different places and are all just trying to survive in this horrible place. But besides the characters, it was the setting that really made this book stand out for me. Based on the Kowloon Walled City in Hong Kong, the descriptions of the city were detailed and dark and gritty and the picture in my mind matched up to the photos I saw online after finishing the book. If you'd like to learn more about Kowloon Walled City, and I recommend that you do, you can read about it here. It's fascinating and horrifying all at the same time. Plus the article will give you a better history of the city than the book will.
I definitely recommend reading The Walled City. Especially if you're fans of historical fiction and science-fiction. While it doesn't exactly fit into either of those genres, it's close enough to both that if you like one, I expect you'll like this. The book was eye-opening and emotional, violent but not gory, beautifully written but not a happy story, haunting but still hopeful. It showed the importance of family and friends, trust and love, and how far is one person willing to go for what's important to them. I do wish I had known about Kowloon Walled City before reading this book because there isn't a lot of information on the city itself but the descriptions given are definitely accurate enough to give you a good picture of setting. Between the characters in this book and the setting, I highly recommend The Walled City.
Related Posts