I received this book for free from Around the World ARC Tours in exchange for an honest review. This does not affect my opinion of the book or the content of my review.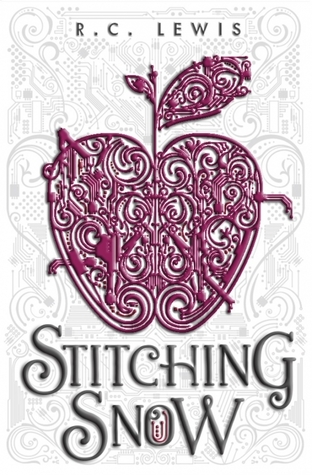 Stitching Snow

by R.C. Lewis
Published by Disney-Hyperion on 2014-10-14
Genres: Fairy Tales & Folklore, Retelling, Science Fiction, Young Adult
Pages: 336
Format: ARC
Source: Around the World ARC Tours
Amazon • Barnes and Noble • Book Depository
Goodreads

Princess Snow is missing.
Her home planet is filled with violence and corruption at the hands of King Matthias and his wife as they attempt to punish her captors. The king will stop at nothing to get his beloved daughter back-but that's assuming she wants to return at all.
Essie has grown used to being cold. Temperatures on the planet Thanda are always sub-zero, and she fills her days with coding and repairs for the seven loyal drones that run the local mines.When a mysterious young man named Dane crash-lands near her home, Essie agrees to help the pilot repair his ship. But soon she realizes that Dane's arrival was far from accidental, and she's pulled into the heart of a war she's risked everything to avoid.
In her enthralling debut, R.C. Lewis weaves the tale of a princess on the run from painful secrets . . . and a poisonous queen. With the galaxy's future-and her own-in jeopardy, Essie must choose who to trust in a fiery fight for survival.
I was really surprised by how much I enjoyed Stitching Snow. I had checked the Goodreads reviews beforehand and saw several low ratings and some DNFs. I started the book anyways because I borrowed it for the tour and needed to send it on and I wanted to see how it was. And honestly, the beginning was slow. Really slow. But then Dane showed up and it picked up for me. I started liking the characters and became interested in the war and wanted to learn Essie's secrets. I'm really glad I stuck with it through the show beginning because I ended up really enjoying it.
In Stitching Snow we are re-introduced to Snow White. For this story, we find her on the planet Thanda where she works fixing mining drones and writing code and occasionally taking part in cage fighting to earn more credits. She has been gone from Windsong, her home planet and where the king and queen live, for nine years. The reasons why she is no longer on Windsong are secret but we learn that she has survived on her own for most of the time she's been away and has seemed to have made no real attempts at trying to get back. We also know her mother is dead and her father has been searching for her since she went missing. What we don't know is why Dane shows up, what is happening in the rest of the galaxy beyond the little news that reaches Thanda, and how Essie really fits into the war. Once Dane shows up and starts putting things in motion, the book moves pretty quickly. We start to learn about other planets and the Exiles and more about the king and queen and Essie's mother and all of the secrets that have been kept. It gets pretty intriguing.
As characters, I really liked Dane and Essie. Essie is the princess but she has been living on her own and has become pretty tough. She's also very smart. She works hard and mostly just wants to be left alone. She doesn't like thinking about the past and lets the mining drones be the only friends she really needs. Dane is more of a secret when he shows up but turns out to be smart, cunning, and a gentleman. Their relationship develops slowly and changes over time. Also, I always love seeing a relationship of equals and ones where the guy isn't always telling the girl what she should and shouldn't do. The supporting characters all very interesting, though I'll admit that I did have some trouble keeping everyone and their locations straight once we got off of Thanda. I do also wish that we could have gotten more from the queen, more of her backstory and reasons for everything she has done. But the majority of the characters are really well done and I enjoyed seeing so much of the world as Essie and Dane traveled from one place to another.
Overall, I really enjoyed this book. It seemed to be sort of a Divergent–These Broken Stars–Salvage mash up for me. I've seen several Cinder (The Lunar Chronicles) comparisons but I haven't read that yet so I cannot comment on that one. I won't go into huge details about the similarities because I don't want to give anything away but the plot structure reminded me of Divergent with space travel and secret discoveries and a swoony boy like in These Broken Stars and a writing style similar to but faster paced and with less unique language than Salvage. I definitely suggest giving this book a try when it comes out. If you're a fan of YA sci–fi or retellings, this is a good one. And it's a standalone! Just remember that the beginning is slow. It took a while for me to really become attached to the characters and the story but once I did, I did not want to put the book down. Also, I want my own drones now!
Related Posts