I'm so excited because it's finally summer and I'm ready to read outside, in the sun, on the beach, and by the pool. I'm ready for fun road trip books and summer romances and beach reads. I'm getting ready to head to the beach with my family and so I thought this was the perfect time for a giveaway!
I know, now we can all be excited! Since it is summer here, I've decided that I want to pass on a few summery reads that I have. Because I'm not quite organized enough to have a great big giveaway right now, they'll pop up gradually over the summer. So check back often. For now, I have an ARC of Open Road Summer by Emery Lord to giveaway!!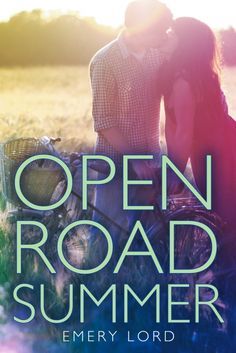 I love this book SO SO SO much and I'm super excited to pass it on to one of you. Also, I was lucky enough to meet Emery when she was doing a signing in Pickerington, so this ARC is SIGNED!!! I hope it will end up in the hands of someone else who will love it just as much as I do. Also, in case you didn't hear, Emery just recently announced her second book!! So if you're already a fan of hers, go check it out!
Now for the rules and giveaway!
Rules for the giveaway:
You must be at least 18 years old or 13 with a parent's permission to enter.
The contest is open to US addresses only.
There will be one winner who will receive an ARC of Open Road Summer.
I will contact the winner via email and they must respond within 48 hours or I will have to choose another winner.
I'm not responsible for items that may get lost or damaged during delivery.
I will delete entries that don't follow the instructions. So read carefully and please don't cheat.
The Rafflecopter: 
a Rafflecopter giveaway

Related Posts