I received this book for free from the Publisher in exchange for an honest review. This does not affect my opinion of the book or the content of my review.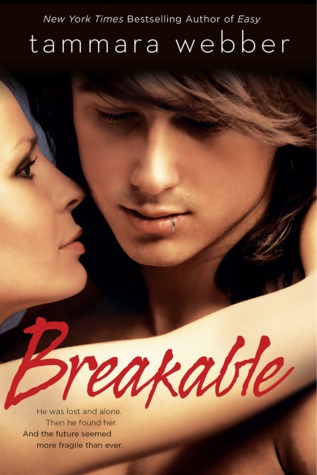 Breakable

by Tammara Webber
Series: Contours of the Heart #2
Published by Penguin Berkley on 2014-05-06
Genres: Contemporary, New Adult, Romance, Social Issues
Pages: 368
Format: Paperback
Source: the Publisher
Amazon • Barnes and Noble • Book Depository
Goodreads

He was lost and alone. Then he found her.
And the future seemed more fragile than ever.

As a child, Landon Lucas Maxfield believed his life was perfect and looked forward to a future filled with promise — until tragedy tore his family apart and made him doubt everything he ever believed.

All he wanted was to leave the past behind. When he met Jacqueline Wallace, his desire to be everything she needed came so easy…

As easy as it could be for a man who learned that the soul is breakable and that everything you hoped for could be ripped away in a heartbeat.
I love these books so much. I wish I could read them again for the first time. But since I can't do that, I'll just enjoy the fact that I've read them and can now recommend them to everyone else. Seriously, these books are amazing.
In Easy, we learned about Jacqueline's story. We experience her painful breakup, her moving on, her assaults, and watch her become empowered again and fall in love. In Breakable, we get to learn about Lucas. If you've read Easy, you know some of his story. (If you haven't read Easy, go do it now!) You might think you know all about Lucas/Landon, but there is so much more to learn. Breakable gives us both a view of present day Lucas and younger Landon. We see Landon as a teenager, we get to see memories of his mother, his father, his past. We see him grow up, fall apart, get pulled back up, and become the man we met in Easy. Lucas' journey isn't an easy one, but it is powerful.
The most amazing part of this book is hands down the writing. I wouldn't be able to fall in love with a character like Landon if it weren't for the beautiful and moving words of Tammara Webber. Landon, as a teenager, isn't the nicest boy who makes the best choices. He's been through something terrible and his family and his world were ruined. He reacts to those losses by rebelling. He makes terrible choices, decides he's worthless, and acts that way. There aren't a lot of people left to pick him up and tell him otherwise. So for the parts of the book that follow teenage Landon, we see him self destruct. But still, I felt for him. I could see the way he acted but I also knew his thoughts, and that made all the difference. He was still a caring, thoughtful boy but he was lost. I wanted nothing but for someone to tell him that he was worthwhile and better than what he thought. Eventually, someone does. And his life is changed. But all the while, seeing teenage Landon made me hurt. It also showed me so much of how he became Lucas and the person that helps Jacqueline empower herself in Easy.
Because we get to see so much of Lucas' past and his pain, he becomes not just some perfect-savior-amazing-hot-guy that he seemed sometimes in Easy, but a real, flawed, and deeply interesting character. We learned the big moment of loss in Lucas' past in Easy, but in Breakable we get every important moment between that time and his meeting Jacqueline. Seeing everything from his side was even better than I thought it would be. I really liked Jacqueline as a character and hope that should I ever experience anything like she did that I could deal with it like she did. But Lucas was also an amazing character. His desire to protect the people he loves, his willingness to let her take the lead and listen to what she wants, and his need to know that she can protect herself make him one of the best male characters out there. He is definitely macho and protective, but he also knows that in order for Jacqueline to overcome what has happened to her, she needs to feel empowered. She needs to feel like she can protect herself. And Lucas understands that and teaches her how. He wants to be the one to protect her but knows that she needs something more than that. And the empowerment that they both feel in overcoming their pasts and doing it together as partners is what makes these two characters amazing and their relationship worth reading.
I'm really not sure what else to say about these books other than READ THEM! Seriously, I loved these books. They aren't always easy to read, they deal with some difficult issues, but they are definitely worth reading. Besides the stories and the characters, the message that It's not your fault is an important part and highlighted throughout the book. That this book shows characters in therapy in a positive light, supportive characters that aren't family members, and that people really can change are all bonuses for these books. I really love these books and I hope you'll like them if you give them a chance.
Just remember that these are New Adult books, the characters are in college and deal with some very serious issues. These are not for younger teens.
Related Posts