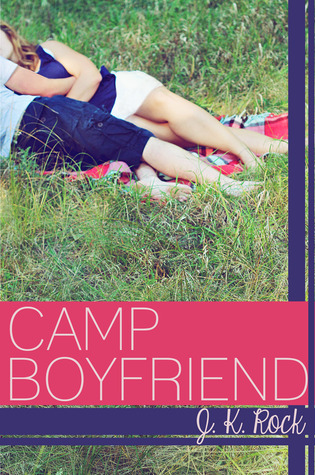 Camp Boyfriend (Camp Boyfriend #1) by J.K. Rock
YA Contemporary Romance
Published on July 2, 2013 by Spencer Hill
The summer of her dreams is about to get a reality check.
They said it couldn't be done, but geeky sophomore Lauren Carlson transformed herself into a popular girl after moving to a new school halfway across the country. Amazing what losing her braces and going out for cheerleading will do. Only trouble is, the popular crowd is wearing on Lauren's nerves and she can't wait to return to summer camp where she's valued for her brain instead of her handsprings. She misses her old friends and most of all, her long time camp-only boyfriend, Seth. This year she intends to upgrade their relationship to year-round status once she's broken up with her new, jock boyfriend, Matt. He doesn't even begin to know the real her, a girl fascinated by the night sky who dreams of discovering new planets and galaxies.
But Matt isn't giving her up without a fight. As he makes his case to stay together, Lauren begins to realize his feelings run deeper than she ever would have guessed. What if the guy she thought she was meant to be with forever isn't really The One? Returning to Camp Juniper Point was supposed to ground her uprooted life, but she's more adrift than ever. Everything feels different and soon Lauren's friends are turning on her and both guys question what she really wants. As summer tensions escalate, Lauren wonders if she's changed more than she thought. Will her first big discovery be herself?
I really tried to like this book because there are so many people who love it. I gave it till about 30% and I just couldn't take it any more. My main issue with this book was the main character. Lauren apparently used to be a nerd who was given a makeover by her mother when they moved and became popular in her new high school and started dating the hot quarterback. She doesn't really fit in with him or his friends but ends up being with him for months. The problem then becomes that she already has a summer boyfriend at her summer camp. As summer gets closer, she tries to break up with her boyfriend but she wusses out every time. Then he decides to follow her to camp so he doesn't have to be at home over the summer. Lauren doesn't know how to break up with him. But then when she see's her camp boyfriend, she doesn't want to not be with him. The entire time that I read it was basically Lauren going back and forth between school boyfriend who she never really gave a chance to and doesn't know the real her and camp boyfriend who thinks it's a good idea to break up during the school year but still expects them to be single when coming to camp in the summer. I just couldn't take her inner dialogue about both boys. I understand liking two guys but going back and forth so much was driving me crazy. Especially when it felt like she was only with school boyfriend because she didn't want to hurt him. She was never honest with him and I never felt much like she was attracted to him or liked him but she was still with him. Maybe if I had felt true feelings for either one from her or if she had real reasons to still be with school boyfriend or if there weren't also a lot of other things that bothered me in the book (like who makes their little sister write their thank you notes from their bridal shower while she's away at summer camp?), then maybe I could have kept reading it and maybe would have even enjoyed it in the end. But where I was, every time I read I just ended up annoyed with the MC. If you decide to give this book a try, I really hope you enjoy it more than me.
*Thank you to the publisher and NetGalley for a copy of Camp Boyfriend for review.*
Half Bad (Half Life #1) by Sally Green
YA Fantasy
Published on March 4, 2014 by Penguin
Half Bad by Sally Green is a breathtaking debut novel about one boy's struggle for survival in a hidden society of witches.
You can't read, can't write, but you heal fast, even for a witch.
You get sick if you stay indoors after dark.
You hate White Witches but love Annalise, who is one.
You've been kept in a cage since you were fourteen.
All you've got to do is escape and find Mercury, the Black Witch who eats boys. And do that before your seventeenth birthday.
Easy.
I really really wanted to enjoy this book because the premise for this book intrigued me so much. The idea and story felt so unique that I just couldn't wait to get into it. But then I started reading it and I just couldn't get into it. To start, the writing style was very different. I was so confused at the beginning of the book, I had no idea what was going on. I only got about 16% through the book before I gave up so there is a lot that I still just don't know about or understand that I'm sure I would have gotten answers to. But between the weirdness of the book and the fact that I just didn't connect with any of the characters made it hard for me to want to read it. I feel like Nathan's brother and maybe his grandmother could have been great characters and his sister was definitely awful but I didn't really feel anything for Nathan. I mean, I felt bad that he was being treated the way he was but something about the writing style was keeping me from really getting pulled into his story. Ultimately, this book just didn't interest me enough to keep me reading and then it was due back to the library and I had to stop reading. I may pick it up again sometime, but it's not likely. If you are interested in reading this book, I would still suggest you give it a try. Just because it wasn't for me, that doesn't mean you won't enjoy it. Plus, a lot of people on Goodreads have great things to say about it!
Related Posts