Halfway to the Grave

by Jeaniene Frost
Series: Night Huntress #1
Published by Harper Collins on 2009-10-13
Genres: fantasy, Paranormal, Romance
Pages: 384
Format: Paperback
Source: Purchased
Amazon • Barnes and Noble • Book Depository
Goodreads

Half-vampire Catherine Crawfield is going after the undead with a vengeance, hoping that one of these deadbeats is her father—the one responsible for ruining her mother's life. Then she's captured by Bones, a vampire bounty hunter, and is forced into an unholy partnership.

In exchange for finding her father, Cat agrees to train with the sexy night stalker until her battle reflexes are as sharp as his fangs. She's amazed she doesn't end up as his dinner—are there actually good vampires? Pretty soon Bones will have her convinced that being half-dead doesn't have to be all bad. But before she can enjoy her newfound status as kick-ass demon hunter, Cat and Bones are pursued by a group of killers. Now Cat will have to choose a side . . . and Bones is turning out to be as tempting as any man with a heartbeat.
We're excited for today's double review and we hope you are too! I chose to read the adult paranormal romance book Halfway to the Grave by Jeaniene Frost as this month's book. So if you'd like to see what both my husband and I thought of the book, stick around!

I am conflicted about Halfway to the Grave, and I am going to cheat by splitting my review.
For the casual reader, the book is a solid read. The characters are just interesting enough to want to follow. The relationship plot arc retreads familiar rom com territory, but the thriller arc is engaging, particularly over the second half of the book.
If you are one of the people who disliked Dark Knight (or many other movies) for pulling out multiple potential endings, then you won't necessarily like the last eighth or so of the book. I was willing to play along until the final final final scene, which brought things to a predictably annoying (and sequel-ready) end.
On the whole, I would give the book 2 stars. Once you get hooked, you won't want to put it down, but I wouldn't blame you for (a) not picking it up, or (b) walking away early on.
I can't let a write up of Halfway to the Grave end without letting my mass comm background come through: this book contains the absolute worst mash-up of sex and violence in anything I've ever read (and I used to read a lot of thrillers).
I get that vampires are inherently violent and that bondage is en vogue right now. Cool. I also know that trafficking is a huge problem — particularly in the state where this book takes place. Attacking that issue is also cool. Blending that all together? The result is awkward at best, and likely more than a little problematic.
Media effects research debates a lot on direct media effects of content on audiences, but there isn't a lot of serious discussion disputing problematic outcomes of sexual violence on audiences. With that knowledge gnawing at the back of my head, I had a tough time with multiple sections of this book. I understand that the book's main story is against sexual violence and trafficking — but in reality, there likely isn't a way to mix violence and sex in this proximity without actually becoming a work of that worst type of porn. I don't think this came close to walking the line.
I'm sticking with the score I noted above, but this is definitely for adults only. Keep it far, far away from kids.

I've been reading YA paranormal romance books for about two years now and figured it was time to try an adult paranormal romance. I wasn't really sure what to expect but I picked this book up because lots of people love it. In the beginning, I wasn't much of a fan. But just like Bones won over Cat, I too was won over and really ended up enjoying this book.
As my husband could attest to, the beginning of this book drove me a little crazy. I was annoyed because I'm not a fan of the whole "guy is a jerk to girl but she likes him anyway" thing and then throw in some stockholm syndrome and it wasn't a big win for me at first. It was basically a Beauty and the Beast situation, where Beauty is a redhead and helps the Beast kill vampires. But in the end, who doesn't love Beauty and the Beast?
My favorite part actually ended up being the romance between Cat and Bones. It didn't have a great start for me but when we learned more about Bones , I began to be okay with him. Then he started sharing his feelings for Cat. I liked seeing him being honest with his feelings and being okay while she figured her's out. Something else that made him a winner for me? He didn't tell Cat she couldn't help him. When he started having feelings for her, he didn't send her away or hide her or make her stay at home. He wanted her safe and would have preferred her not be in danger, but he supported her decision to help him hunt the bad guys, let her get right in the middle of the fight, and was proud of her. And while I'm not entirely sure he sees her as his equal in fights because she doesn't have all of his vampire strengths, I can definitely stand behind a relationship where the partners support each other.
The end of the book did get a little bit ridiculous for me. I won't give spoilers for those of you who haven't read it but sometimes I just wish a book could end without going to that ridiculous place that has you shaking your head a little with each step it feels it must take. Regardless, I still enjoyed this book, the relationship between Cat and Bones, and their hunt to bring down the bad guys. I also liked seeing a strong female lead that fought hard and wanted to win. She didn't become a blubbering idiot when Bones announced he had feelings for her. She wasn't scared when they were in danger. She was a bit naive in the beginning, but that's okay. She grew a lot and became quite confidence and sure of herself by the end of the book. I liked seeing a woman standing up for other women, killing bad guys, and then going home with Bones. I will continue to read this series and hope for lots more Cat and Bones moments. Also, I hope Cat's mom isn't always such a bitch. I really hated her.
I would give Halfway to the Grave 4 stars because of the romance, the exciting plot, and the kick-ass heroine. I would also remind you that this is an adult romance book and has plenty of sex and violence. If that bothers you, I would recommend staying away from it. Personally, I can't wait to read more of this series. I agree with Troy and Abed who think Jeaniene Frost nailed it with this one.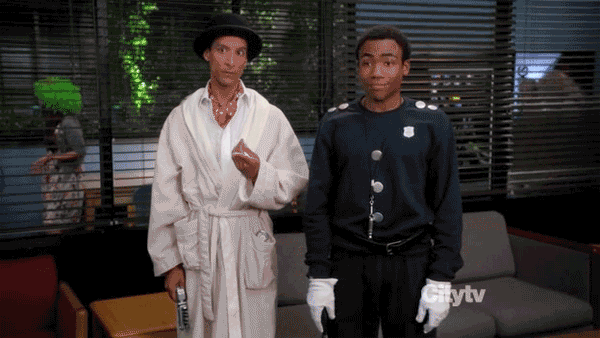 Well, it seems like my husband and I thought very different things about this book. Based on the cover, I would have thought he'd have been more of a fan than I was. Should I be offended that he called me a casual reader? I'll let it pass. One of the reasons I enjoy reading books with him so much and writing up double reviews is because our different backgrounds and experiences make our reactions to the same books so different. I really enjoyed reading this book with him.
Have you read Halfway to the Grave? If you have, let us know what you thought about! If you haven't, do you think you will?
Related Posts