I received this book for free from the Publisher in exchange for an honest review. This does not affect my opinion of the book or the content of my review.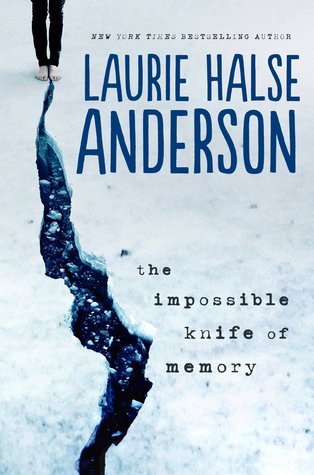 The Impossible Knife of Memory

by Laurie Halse Anderson
Published by Penguin on 2014-01-07
Genres: Coming of Age, Contemporary, Depression & Mental Illness, Social Issues, Young Adult
Pages: 304
Format: ARC
Source: the Publisher
Amazon • Barnes and Noble • Book Depository
Goodreads

For the past five years, Hayley Kincaid and her father, Andy, have been on the road, never staying long in one place as he struggles to escape the demons that have tortured him since his return from Iraq. Now they are back in the town where he grew up so Hayley can attend school. Perhaps, for the first time, Hayley can have a normal life, put aside her own painful memories, even have a relationship with Finn, the hot guy who obviously likes her but is hiding secrets of his own.

Will being back home help Andy's PTSD, or will his terrible memories drag him to the edge of hell, and drugs push him over? The Impossible Knife of Memory is Laurie Halse Anderson at her finest: compelling, surprising, and impossible to put down.
This was my very first Laurie Halse Anderson book and I can definitely say that it will not be my last. I loved how she told Hayley's story. It wasn't over the top or in your face. It was slow and steady and beautiful and powerful. I loved it. The words she uses are simple but the way she puts them together makes you think and feel. The Impossible Knife of Memory is the perfect book for people who love issues books and books that make you think.
In The Impossible Knife of Memory, we meet Hayley. I really had no idea what to expect from her as our MC. I have no experience with Laurie Halse Anderson's characters and there were no real clues about her from the summary of the book. I was very pleasantly surprised. She was strong and brave, a little reckless, snarky and honest. I liked that she didn't fit into the typical high school YA mold. She didn't care about school, she knew what the real world was like after having been on the road with her dad and she knew what real problems and pain were like, after losing so many people she cared about and seeing her dad's struggles. She knew what typical kids her age did but she didn't do those things and didn't let the other kids change her. It's always good meeting characters who are unique. They are always the most interesting.
Perhaps the most important parts of this book are the times Hayley deals with her dad, Andy. Her dad is a war vet and suffers from PTSD. For years, he's been a truck driver, taking Hayley on the road with him because her mother died when she was a baby. Now that Hayley is a senior in high school, he thought it would be good to give her a year of normal school. They settle into Hayley's grandmother's old house, which had been left to them, and struggle to find a normal routine. Hayley hopes that with a normal routine her dad will start to improve. But the return to his home town is proving difficult for him. Staying still, reuniting with old friends, and refusing to see a therapist are not helping Andy recover. And Hayley is left to deal with the consequences. Along with his PTSD, she is dealing with suppressed memories of her own. While Andy was in Iraq, Hayley lived with her grandmother in this house but she remembers none of it. As time passes and Andy doesn't improve, Hayley begins to worry. I loved the moment they shared together at the end. Hayley is much older than she should be as a seventeen year old but in those moments with her dad, she's just his daughter. I don't want to give anything away, but those moments between them were perfect and had me tearing up.
One of my favorite parts of the book was seeing the relationship between Hayley and Finn develop. I love nothing more than two misfits finding each other. Finn was perfect for Hayley because he wasn't perfect. He didn't fit into the typical teenage mold either and he didn't care. He was an interesting mix of nerd and athlete and it worked perfectly. He was also hiding some secrets of his own. When he and Hayley find each other, it isn't an easy road. Between their own secrets, Hayley's awkwardness with other people and lack of contact with teenagers over the years, and their issues with trust, they have a lot to deal with before their relationship works for both of them. But I like that Finn calls Hayley out and that he faces his fears with her. It's not a perfect relationship, but I like it.
While I did really enjoy this book, there were a couple of things that didn't quite work for me. These are really small but I always feel weird rating a book four stars not mentioning why it didn't quite make five. I really wish there had been more explanation or build-up or memories with Trish and Hayley's relationship with her. I felt like she all of a sudden came into the picture and I didn't completely understand what was happening. Also, I wish we could have gotten more memories from what Hayley's life was like when she was a kid, before her dad came back from Iraq. I realize that this book is about how memories affect us and dealing with those painful memories, but I'd really like to know what Andy was like before he went to war and what Hayley's life had been like. There were also a couple times when I wanted to shake Hayley and remind her that there were other people suffering and not everything was about her. But since this is her story, I'm willing to forgive a little selfishness.
Overall, I really liked this book. Laurie Halse Anderson is definitely an author I will read again. Her writing is simple but beautiful. This book was moving without screaming at you. I loved the moments at the end with Hayley and her dad. I also really liked the way this book finished up. This book was moving, realistic, quiet, and thoughtful. I definitely recommend this book and can't wait to read more books by Laurie Halse Anderson.
Related Posts