I received this book for free from the Publisher via Edelweiss in exchange for an honest review. This does not affect my opinion of the book or the content of my review.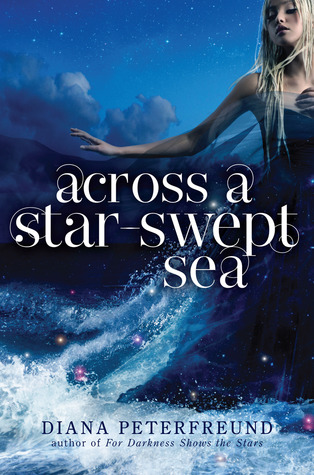 Across a Star-Swept Sea

by Diana Peterfreund
Series: For Darkness Shows the Stars #2
Published by HarperCollins on 2013-10-15
Genres: Retelling, Science Fiction, Young Adult
Pages: 464
Format: eARC
Source: the Publisher via Edelweiss
Amazon • Barnes and Noble • Book Depository
Goodreads

Centuries after wars nearly destroyed civilization, the two islands of New Pacifica stand alone, a terraformed paradise where even the Reduction—the devastating brain disorder that sparked the wars—is a distant memory. Yet on the isle of Galatea, an uprising against the ruling aristocrats has turned deadly. The revolutionaries' weapon is a drug that damages their enemies' brains, and the only hope is rescue by a mysterious spy known as the Wild Poppy.

On the neighboring island of Albion, no one suspects that the Wild Poppy is actually famously frivolous aristocrat Persis Blake. The teenager uses her shallow, socialite trappings to hide her true purpose: her gossipy flutternotes are encrypted plans, her pampered sea mink is genetically engineered for spying, and her well-publicized new romance with handsome Galatean medic Justen Helo… is her most dangerous mission ever.

Though Persis is falling for Justen, she can't risk showing him her true self, especially once she learns he's hiding far more than simply his disenchantment with his country's revolution and his undeniable attraction to the silly socialite he's pretending to love. His darkest secret could plunge both islands into a new dark age, and Persis realizes that when it comes to Justen Helo, she's not only risking her heart, she's risking the world she's sworn to protect.

In this thrilling adventure inspired by The Scarlet Pimpernel, Diana Peterfreund creates an exquisitely rendered world where nothing is as it seems and two teens with very different pasts fight for a future only they dare to imagine.
This book was actually a little disappointing for me. It just took me a really long time to get into this book. And even when it started getting more interesting, I still felt like I was having to work my way through instead of just enjoying the ride. Mostly, I had a hard time following the story and how it connected to For Darkness Shows the Stars. I thought it was a sequel but the beginning felt like a completely different book. Eventually the books come together and I saw the connection, but before that happened I had a hard time with this book. It wasn't exactly what I had wanted heading into it.
My biggest problem with the book is that it is a sequel but is actually set in a different place than For Darkness Shows the Stars. To be fair, it has been a while since I read the first book, but when I started this one I was so confused because I didn't remember anything that was going on except that the Reduction had happened. When I finally realized that I didn't remember what they were talking about because everything had different names, I was both relieved that I was going crazy but also annoyed because I had to relearn everything. It took me a long time to get past the first 20% of the book because I just didn't know what they were talking about and I hate being confused. If I can't follow a book, I don't want to read it. But I stuck with this one and eventually got everything straight. I just wish I could have spent that 20% focusing on the characters and the story rather than the wording.
One of the other reasons I was disappointed with this book deals with the romance. I'm a big fan of romance and I enjoy seeing characters fall for each other and I love it when a relationship takes time to build. But I don't like when I spend an entire book listening to the back and forth of the characters and their feelings and then finally see them together right as the book ends. I did read For Darkness Shows the Stars and I remember having these same feelings with that book. I shouldn't have been surprised. And honestly, I wasn't surprised. Just disappointed. I want to see these characters together!
I do want to say that I was a big fan of The Scarlet Pimpernel retelling and think that if you're a fan of that story you might enjoy this one. Beyond all of the other stuff, I liked the spying and the disguises and the secrets and I think that part was done really well in this book. There is no doubt that Diana Peterfreund is a great writer. If she wasn't, I wouldn't have kept reading this one. The retellings are definitely my favorite part of these books.
I also enjoy the characters. I love how different they are at the end of the book than what they seem to be at the beginning of the book. Persis and Justen and Isla and Tero and Persis' parents and Justen's sister and everyone else. Everyone plays an important role in the story and their role is probably different than what it appears to be in the beginning. We also get a glimpse of some favorite characters from For Darkness Shows the Stars. I was happy about that but almost wish we could have had more of them.
Overall, this book was only okay for me. It took me a long time to become acquainted with the new world and language and characters and history. But once I figured it all out, reading went much faster. The writing is well done and I really liked the retelling of The Scarlet Pimpernel. I really liked Persis and Justen together, I just wish we could have had more of them together. I would recommend this book if you really enjoyed For Darkness Shows the Stars and know that this takes place in a different location than that one or if you are looking for a retelling.
Related Posts