Brave New World

by Aldous Huxley
on 1932
Genres: Classics, Fiction, Science Fiction
Pages: 288
Format: Paperback
Source: Purchased
Amazon • Barnes and Noble • Book Depository
Goodreads

Aldous Huxley's tour de force, Brave New World is a darkly satiric vision of a "utopian" future—where humans are genetically bred and pharmaceutically anesthetized to passively serve a ruling order. A powerful work of speculative fiction that has enthralled and terrified readers for generations, it remains remarkably relevant to this day as both a warning to be heeded as we head into tomorrow and as thought-provoking, satisfying entertainment.
Well, I read this book and the best thing I can say for it is that it certainly has the ability to start a lot of interesting discussions. As soon as my husband finished it he wanted to talk about it. Of course he had to wait until I was finished reading it. I didn't want any spoilers! Then, as soon as I was done, I had to talk about it as well. So if you're looking for a book to discuss, this might be a good one.
Brave New World is a classic dystopian written in 1932. When the book starts, we're getting a tour of the society's reproduction facilities. At first, I was pretty surprised by the technology and science mentioned in this section and felt that the book didn't seem too dated. It reminded me slightly of Partials by Dan Wells, though I'm not entirely sure why but I think it might just be because both are science-fiction and deal with reproduction stuff in their beginnings. But because I've read several dystopians, it didn't feel dated by the beginning. But, I would be surprised if my husband doesn't mention how dated it felt to him. Apparently, to him, it seemed to fit right in with the Industrial Revolution. Maybe he'll talk more about that and you can see how we felt differently about the beginning.
That undated feeling didn't last any longer than that tour, though. This book is all kinds of dated. From the words it uses to the general feelings of superiority between the genders and classes, I couldn't believe I ever thought this book might actually feel like it could have been written more recently. The society is based on a class system where all classes are treated differently right from the start. Alphas are given the best prenatal conditions and nutrition while Epsilons, the lowest class, are purposefully deprived of oxygen and other necessities to stunt their growth and create a class that will do the things that Alphas, Betas, and Gammas won't want to do. Then, as children, they all live in community homes with other children their ages and are conditioned to feel certain ways about other classes and their own. They are also taught that everyone belongs to everyone else. This leads to the society's belief that promiscuity is good and being alone is bad. The community and classes work together to provide everything they should need and everyone should be happy with the class they are in, because they are told to be happy. It's an endless cycle that leads to a very monotonous life of working and buying things and partying (and orgies?) where people think they are happy but are secretly not feeling very important or special. Because they aren't. I suppose there are feelings in there that relate to today's society, especially when considering consumerism and 9 to 5s and stuff, but it still felt dated to me.
The premise of the book is very interesting and I was excited about seeing where the conflict would be and how the characters would develop. But unfortunately for me, nothing really happened. The characters didn't develop or change, though they may have questioned the society, there was no real motion anywhere and the characters were never forced to even really stand up for what they believed the problem to be. It was so frustrating to read a book with a real problem and a character that saw that problem but then have absolutely nothing happen. When I finished the book, I felt a little bit like this:
So there's that. And I'm not even getting into the sexual references throughout the book and the idea that promiscuity is good because everyone belongs to everyone else and the scenes where kids are encouraged to explore and engage in certain activities with other children. Just ick. The book is sad and depressing and succeeded only in making me frustrated. The only reason I'm not madder at the fact that women in this book are shallow and stupid and only given the opportunity to freak out when confronted with anything rather than discuss and solve problems is because the male characters are almost no better. They solve nothing, try to fix nothing. They are only better because they are actually given the opportunity to question things. Women aren't even given that.
I was not a fan of this book. I gave it two stars simply for its ability to create interesting discussions.
Ambivalence is a nearly perfect word for my reaction to Brave New World — I have a roughly equal weight of positive and negative responses to the book. I've tried digesting the book for a week or so before writing this, I've talked through some of my feelings with others, but I still can't decide which way I'd go. That being said, I would recommend the book and probably even give it four stars. It's something that will make you think about culture, economics, work, and love.
Being a warm, optimistic person, I'd rather end on a positive note, so lets start with the negatives. The book did not flow well. If I were the editor, I would have strongly encouraged Huxley to develop the book as a series of short stories set in the same world. Ironically, my edition's back matter discussed that early viewers found a lack of character development – I certainly won't contradict them, even knowing about the book's subsequent success.
The more important problem with the book needs some context: Brave New World was written in the 1930s. I haven't read a lot from this era, but the book reads old. I don't mean tech references, which I can look past. Think about how melodramatic and over-the-head old movies can be. Now imagine reading that. And keep in mind that I've read a fair amount of books from the 19th Century and grew up wanting to be Cary Grant.
On the positive side, the book promotes free love.
Oh, wait, that was a bad outcome of society. The positive of the book is that it presents a world that still manages to hold an unflattering mirror to the contemporary society of 80 years in the future. I was regularly disturbed by what I read – so much so that it made me question my employment, purchasing decisions, recreational activities, and so much more. The fact that a book written this long ago could make me feel this way, caused a deep sadness inside of me. Although we obviously haven't moved close to any of the extremes Huxley creates, I'm inclined to believe we are closer in several respects to his world than we are to avoiding it.
Bottom line: the book is probably worth reading (although I couldn't blame anyone who skips from when the savage begins his discussion with a certain key person until the last two pages). At 250 pages, a few hours of somewhat unpleasant reading is well-worth the thoughts and discussions that will take place after.
In the end, the winner of Battle of Brave New World is: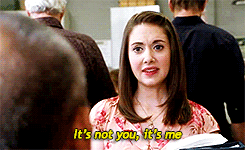 Me! Because it wasn't my pick but I finished it anyway. Also, it's my blog and I say women needed a win today after all the hysterics and lack of female character development in that book.
Points (completely worthless except that I'm horribly competitive) now stand at: Jason: 2 Lori: 1. Make sure you check out next month's Battle of Two Boys Kissing by David Levithan! I'm so excited to read this book and to read it with my husband and see what he thinks.
Related Posts