I received this book for free from the Publisher in exchange for an honest review. This does not affect my opinion of the book or the content of my review.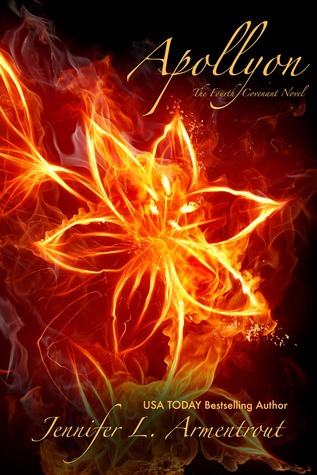 Apollyon

by Jennifer L. Armentrout
Series: Covenant #4
Published by Spencer Hill Press on 2013-04-04
Genres: Fantasy & Magic, Love & Romance, Mythology, Young Adult
Pages: 360
Format: ARC
Source: the Publisher
Goodreads

Fate isn't something to mess with… and now, neither is Alex.

Alex has always feared two things: losing herself in the Awakening and being placed on the Elixir. But love has always been stronger than Fate, and Aiden St. Delphi is willing to make war on the gods—and Alex herself—to bring her back.

The gods have killed thousands and could destroy entire cities in their quest to stop Seth from taking Alex's power and becoming the all-powerful God Killer. But breaking Alex's connection to Seth isn't the only problem. There are a few pesky little loopholes in the whole "an Apollyon can't be killed" theory, and the only person who might know how to stop the destruction has been dead for centuries.

Finding their way past the barriers that guard the Underworld, searching for one soul among countless millions, and then somehow returning will be hard enough. Alex might be able to keep Seth from becoming the God Killer… or she might become the God Killer herself.
I'm going to start out this review by being completely honest about this series and let you know that we have a complicated relationship. I can't stop reading them but I also just don't love them. I've enjoyed some of the books but not all of them. I've liked some of the characters but been annoyed by others. The stories are engaging and the cliffhanger endings keep me reaching for the next book in the series but the writing is not polished. So rating and reviewing these books has been difficult for me. But I'm writing this review now because I need to let you all know that this book, Apollyon, is by far the best book in this series and if you have read any of these books, you're going to want to read this one.
*You should know there will be spoilers in this review for all of the previous Covenant books as well as some mild ones for Apollyon, so if you don't want to know what happens, stop reading now*
In Apollyon, we finally get to see Alex as an Apollyon. We see the changes in her both when she's connected to Seth and when she's not. We see her struggle to figure out her new role, not only in relation to who she is now but also within the battle that has been set in motion. We see how her relationship with Aiden changes and how her thoughts about Seth have changed with her awakening. We find out more information regarding the war and the Gods and who is behind everything that has happened. And we get to travel back to the Underworld in search of answers that might help to keep Seth from becoming the God Killer. Many of the characters we've known for several books already start to show new sides of themselves. And in almost every case, I liked the characters better for it. This book is full of action, romance, intense moments, and has an ending that left me seriously wanting Sentinel right now.
When it came to the characters in this book, I loved them all (except the ones I'm suppose to hate, of course). Alex has finally grown up and worked on some of her really annoying habits. She always seemed wishy-washy to me and rash and selfish and childish. But in this book she actually seems to take responsibility for her actions, starts paying attention to the people around her and how they are suffering. She thinks about how the consequences of her actions will affect others and starts to see the bigger picture, not just the one involving her. I really liked her in this book. Also, Aiden. Boy was he good in this book. We get to see a real relationship between the two of them and it felt much more equal in this book. Plus, we don't see Seth as much in this book as we do in the others and for me, that's always good. The other minor characters are also great but I'm especially a fan of Marcus and Deacon.
On a less happier note, though, I did have some problems with the writing in this book. While this was by far my favorite in this series and I love the Lux series, something was lacking in the writing on this one. To be fair, I did read an ARC version so it may just not have been as polished as the final print copy will be but there were some passages that were awkward to read. I had to go over several more than once because I tripped over the words the first time around. Also, she seemed to use '…' a lot. I became distracted by it pretty early on. It seemed almost like a crutch when the right words just weren't there. These are really nitpicky things that I'm not sure I should even really include in the review, but they did stick out to me while reading, so I'm leaving them in. But polished writing or not, this is a very good story that kept me on the edge of my seat!
Final Thoughts: This series hasn't been my favorite but Apollyon is by far the best book to date. We get to see the story progress and the conflict deepens. We see growth and maturity in the characters. We get Alex as the Apollyon. And we get lots of fighting, battles, steamy romance, and emotions. I'm definitely looking forward to Sentinel now. If you hate the JLA cliffhangers, I promise this one will drive you mad! So wait to read this one until Sentinel if you need to, but if you've read this series up until now, you definitely need to read this one. I gave Apollyon four stars and I think all of you Covenant fans will love it!
Related Posts