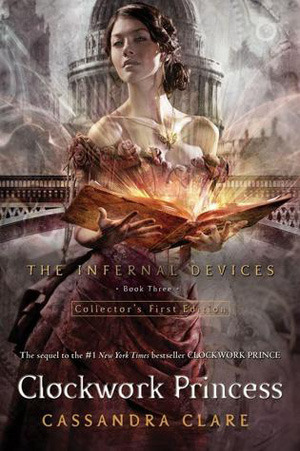 Clockwork Princess

by Cassandra Clare
Series: The Infernal Devices #3
Published by Simon and Schuster on 2014-11-11
Genres: Fantasy & Magic, Historical, Love & Romance, Young Adult
Pages: 608
Format: Hardcover
Source: Purchased
Amazon • Barnes and Noble • Book Depository
Goodreads

Danger and betrayal, secrets and enchantment in the breathtaking conclusion to the Infernal Devices trilogy.

Tessa Gray should be happy - aren't all brides happy?
Yet as she prepares for her wedding, a net of shadows begins to tighten around the Shadowhunters of the London Institute.
A new demon appears, one linked by blood and secrecy to Mortmain, the man who plans to use his army of pitiless automatons, the Infernal Devices, to destroy the Shadowhunters. Mortmain needs only one last item to complete his plan. He needs Tessa. And Jem and Will, the boys who lay equal claim to Tessa's heart, will do anything to save her.
I'm not really sure how to write this review. I finished the book last night and was exhausted afterwards. In a good way. This book was epic. The perfect end to The Infernal Devices trilogy. I loved it.
I'm not going to do a run down of events in the book because I want to keep this as spoiler free as possible. I know everyone who is a fan of The Infernal Devices has been waiting for this finale for a long time and I would hate to take away from their experience of reading it. I will say that this book was full of emotions, even the prologue gave me goosebumps! There's something about the way Clare uses her words, especially in this series, that just gets to me. The bond between Jem and Will. The emotions between Will and Jem and Tessa. The love that Henry and Charlotte have for each other. The danger their lives are in. And yes, the loss. The words just cut straight to my heart.
I generally don't cry during books. In fact, I hate doing that. But I couldn't help it with this one. I tried looking through the quotes on Goodreads to include one as an example of the emotions held within this book, but I started tearing up again. So I've decided not to include any. And if you don't want to be spoiled, don't read the quotes from the book on Goodreads. They hide nothing.
I can promise that, if you are a fan of The Infernal Devices, you will love this book. If you are a fan of The Mortal Instruments series and haven't read this one, do it now. This series is so much better than the other. It is still pretty soap-opera-y, overly emotional, and very dramatic, but the characters are way better and the drama is much less eye-roll inducing. At least for me. I couldn't put any of the books in this series down, most of all this last one. There is a battle. There is loss. But there is also lots of love and hope and answers to all the questions we've been waiting for. It was epic. I gave Clockwork Princess 4.5 stars (docking half a point for just a couple really, really minor annoyances.)
A note about the sticker on the book: I couldn't find anywhere that sold this book without the movie sticker right in the middle of the front cover but I was able to peel it off pretty easily just by going nice and slowly. I can't even say how annoyed I am by the sticker, I know many other people are as well. I hope in the future publishers will remember that we buy the pretty hardcover books because of the pretty hardcovers. We don't want anything to mess them up.
And now, just a few questions for people who have read Clockwork Princess: Is this a love triangle that you feel actually works? Or does the Will-Jem-Tessa relationship bother you like other love triangles? How did you feel about the epilogue? I, personally, thought this was one that finally worked and I'm glad it was there. But did you feel cheated at all by the end? Has anyone been upset by the epilogue? What did you all feel at the end of this book? I'm still having so many emotions!
Related Posts