I received this book for free from the Publisher in exchange for an honest review. This does not affect my opinion of the book or the content of my review.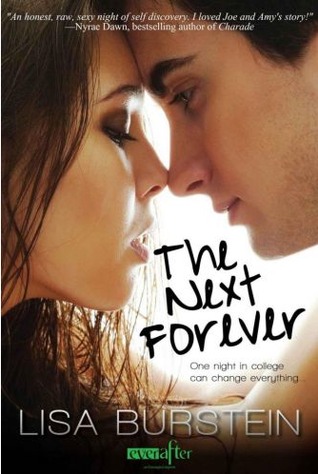 The Next Forever

by Lisa Burstein
Series: Pretty Amy #1.5
Published by EntangledTeen on 2013-01-13
Genres: Contemporary, New Adult, Romance
Pages: 96
Format: eARC
Source: the Publisher
Amazon • Barnes and Noble
Goodreads

One night in college can change everything…

Away at college, Amy just wants one night alone without her high school sweetheart, Joe. So when he invites her to go to the library, she heads off on her own instead. How she ended up at a house party with the mysterious bad-boy Trevor is another story…

Joe so isn't going to the library. He needs space from Amy, too, so he's decided to rush a fraternity, to get back the swagger he had in high school. But it doesn't take long for the brothers to invite him to the real rush here the beer is flowing and one particular girl has set her eyes on Joe.

Over the course of one wild night, both Amy and Joe will have to decide if their futures belong with two new people, or whether the next forever will have their first loves in it.
I want to start out this review by stating that I have not yet read Pretty Amy. On Lisa's own website she states that all of the Pretty Amy books can be read in any order, that they are companion novels, not a series. So when I got the chance to review a copy of The Next Forever, I jumped at it. I've heard so much about her book that I didn't want to miss my chance on this one and I'm so glad I didn't! Because I can tell you know for sure that I will be getting Pretty Amy (and Dear Cassie in March!) as soon as I can!
In The Next Forever we meet (or meet back up with) Amy and Joe. They have gone off to the same college and have spent most of their free time together. Now they need to figure out what happens next. When Joe asks Amy to move in with him for the following year, they are both faced with difficult questions about their future together. What follows is a double POV narrative of one night spent apart, both thinking about their past, their future, and what they want from here on out.
Since The Next Forever is told in double POV, we get to hear from both Amy and Joe. I can honestly say that there is definitely enough information from both of them to get a good feel of their characters even without having read Pretty Amy first. And I really liked both Amy and Joe. There are quick background details that reveal how they know each other, how long they have been together, and the basics of their relationship. It was enough for me to know why they were spending the night apart and what they were both feeling at this point in their relationship. I hope that it also wouldn't feel too repetitive for someone who's read Pretty Amy, but I just don't know.
I really enjoyed this novella. It's a very quick read but has well-developed characters and an interesting storyline. Both Amy and Joe are wondering what they want next and if they really want what they've already got. We've all wondered, at some point or another, if what we're doing is what we really want or if we've ended up there by someone else's wishes or wants for us. It was interesting being inside someone's head while they were dealing with these thoughts. A few of the passages did start to feel a little long and their thoughts were repetitive at times, but overall the story moved quickly and the conclusions that they come to separately were moving. The history that was revealed throughout the story between Amy and Joe, as well as meeting the characters themselves, has made me want to go pick up Pretty Amy so I can learn more about them. But I definitely did not feel like I was missing anything from this novella by not having read it first. I gave The Next Forever four stars and am calling it as a quick, interesting novella but not necessarily a must-read.
Related Posts