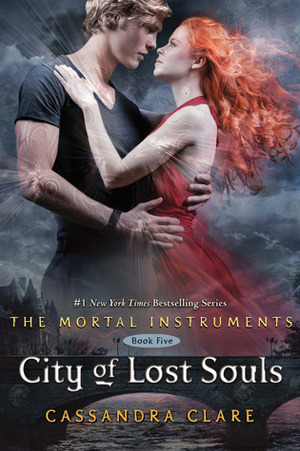 City of Lost Souls

by Cassandra Clare
Series: The Mortal Instruments #5
Published by Simon and Schuster on 2012-05-08
Genres: Fantasy & Magic, Paranormal, Romance, Young Adult
Pages: 560
Format: Hardcover
Source: Library
Amazon • Barnes and Noble • Book Depository
Goodreads

The New York Times bestselling Mortal Instruments continues—and so do the thrills and danger for Jace, Clary, and Simon.

What price is too high to pay, even for love? When Jace and Clary meet again, Clary is horrified to discover that the demon Lilith's magic has bound her beloved Jace together with her evil brother Sebastian, and that Jace has become a servant of evil. The Clave is out to destroy Sebastian, but there is no way to harm one boy without destroying the other. As Alec, Magnus, Simon, and Isabelle wheedle and bargain with Seelies, demons, and the merciless Iron Sisters to try to save Jace, Clary plays a dangerous game of her own. The price of losing is not just her own life, but Jace's soul. She's willing to do anything for Jace, but can she still trust him? Or is he truly lost?

Love. Blood. Betrayal. Revenge. Darkness threatens to claim the Shadowhunters in the harrowing fifth book of the Mortal Instruments series.
I just finished reading City of Lost Souls last night and I have to say that I didn't love it as much as it seems everyone else did. And I think this time it was because I read City of Fallen Angels right before and didn't have any wait time between the two. I didn't have time to be excited about the book. I think if I had, I would have liked it more. Cassandra Clare certainly knows how to create suspense and intrigue, but this time I was just too annoyed by other things to fully enjoy the story.
My biggest problem with the book was the fact that the characters from the beginning of the series that I liked so much weren't there anymore. I've never been much of a Clary fan, she's too impulsive and selfish for me, but I do miss Jace. These last two books he was possessed and we've only gotten glimpses of the real Jace that we all fell for in the beginning. I also hated Alec in this book. I wasn't a huge fan of his in the first book, but he really started to grow on me through the series. But this last book made me want to smack him and tell him to grow up. I love Magnus, he's one of my very favorites and I am happy he has been pretty constant in the series, but Alec does not deserve him. I just wish the characters that we've known the entire series could be more likeable by this point.
There were a few things I liked about the book. My favorite part was getting to know the secondary characters more and see their relationships grow. I never thought Isabelle would be one of my favorite characters, but in this book she definitely was. I liked seeing her vulnerable and finally being able to depend on someone else. And I think her relationship with Simon could end up being one of my favorite as well. The Maia/Jordan relationship also gets a lot of attention in this book and I mostly liked it. I hope Clare treats it the way it should be treated and not just turn it into a physical relationship. I've already spoken a little about the Alec/Magnus relationship and I really just wish Alec weren't so stupid. I'm definitely interested to see where the two of them end up, if Alec changes at all in the next one. I'm glad we were able to get more from each of these relationships in this book.
The one part that I really liked in regards to Jace was the realization he had at the end of the book about the connection between him and Valentine and Sebastian. I won't give away what he said, but I was happy with his discovery. It felt that, at last, something good had come from this book for him.
I know this review is a little all over the place, but I just need to ask a question before I wrap it up. Is anyone else bothered at all by the weird brother/sister relationships in this series? Is Clare trying to punish Clary in some way by making her relationships with all of her "brothers" turn physical? I know Sebastian is really messed up and I know Clary and Jace aren't actually related, but I think I would like the series a lot more if the people she thinks are her brothers weren't always trying to kiss her.
Okay, I know it sounded from the review that I hated the book, but honestly I didn't. There were just things about it that annoyed me. If you are a fan of The Mortal Instruments series, you should definitely read it and I think you'll love it. If you want to see some more positive reviews, head over to its Goodreads page. I still liked the book, am glad I read it, and will pick up the next one when it comes out. I gave City of Lost Souls by Cassandra Clare 3 stars.
Related Posts