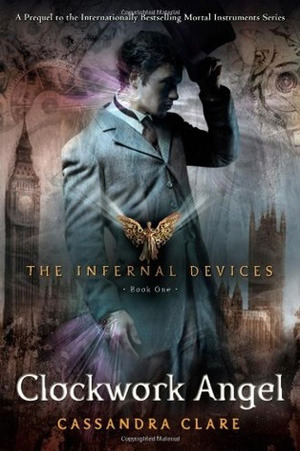 Clockwork Angel

by Cassandra Clare
Series: The Infernal Devices #1
Published by Simon and Schuster on 2011-10-04
Genres: fantasy, Historical, Paranormal, Young Adult
Pages: 479
Format: Hardcover
Source: Library
Amazon • Barnes and Noble • Book Depository
Goodreads

In a time when Shadowhunters are barely winning the fight against the forces of darkness, one battle will change the course of history forever. Welcome to the Infernal Devices trilogy, a stunning and dangerous prequel to the New York Times bestselling Mortal Instruments series.

The year is 1878. Tessa Gray descends into London's dark supernatural underworld in search of her missing brother. She soon discovers that her only allies are the demon-slaying Shadowhunters—including Will and Jem, the mysterious boys she is attracted to. Soon they find themselves up against the Pandemonium Club, a secret organization of vampires, demons, warlocks, and humans. Equipped with a magical army of unstoppable clockwork creatures, the Club is out to rule the British Empire, and only Tessa and her allies can stop them....
Let me just start out by saying that Cassandra Clare really does know how to write YA novels. The Mortal Instruments series is extremely popular and now The Infernal Devices are quickly following in their footsteps. The romance, angst, suspense, action, it's all there. Her books are fun, fast, easy reads and Clockwork Angel was no different.
InClockwork Angel,we are once again immersed in the world of Shadowhunters and Downworlders, though the setting is Victorian London instead of present-time New York City. I did love reading about London and Clare does a wonderful job creating an entire world and letting the reader settle right down into it. The dresses and the gloves and the proper English, they were all rather lovely to read about.
In Clockwork Angel we are introduced to many new characters including Tessa, Will and Jem, the main trio of The Infernal Devices. Clare has done a great job creating depth amongst all of her characters and while I'm still trying to figure out the reasons behind all of her characters actions, I am definitely intrigued and want to know more about them. The love triangle is there again, which I am okay with, especially becausethere is no creepy brother-sister relationship to deal with.
The story of Clockwork Angel is filled with suspense, relationships, interesting characters and surprising twists. If you read and liked The Mortal Instruments series, then there is no reason you should not read these books as well. If you haven't read them yet, go get them. The stories are fresh and entertaining and I still get surprised by the twists Clare creates even after reading many of her books. I am now reading Clockwork Prince (The Infernal Devices #2) and can't wait to find out what happens next!
Related Posts