They say the first step to overcoming a problem is actually admitting you have one. I'm here today to admit that I have a problem with finishing book series. I noticed it the other day while writing my Top Ten Tuesday post. I was looking through my read list on Goodreads and had a lot of authors on there with completed series but saw only one or two of those books on my read list. It became a trend as I clicked through the pages of my list. I don't know why I have this problem or where it stems from but when it comes to finishing series, I definitely have a problem.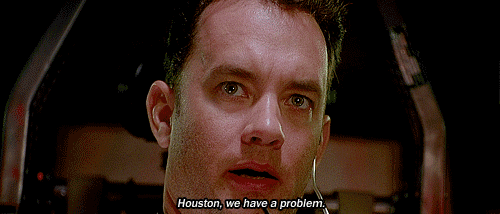 We've all experienced series that have horrible endings and series enders that are good but don't quite give us the ending we were looking for. We've read enders that gave us no conclusions whatsoever and enders that have epilogues that spell out the rest of the characters' lives. And, if we're being fair, there have also been great series enders that have given us exactly what we wanted. Or didn't know we needed. But it's that fear of being disappointed and the idea that the series might end in a way that we don't want that makes me pause.
But I think my biggest problem with finishing a series is just the end part. That's when it's over. Whether it was good or bad, whatever the expectations were, there will be no more. No more anticipation of the next installment. No more discussing what could happen. No more of whatever it was that made me fall in love with the series in the first place. It's just over. And ends are hard for me.
But I think this is becoming too big of a problem. I have so many series that I need to finish that I'm not sure I can even count them. I need to suck it up and finish them! I think I'll be making a challenge for myself next year to finish a certain amount of series that I still have to read. And maybe that way, I can work those books into my reading schedule ahead of time and make sure that I do it. I can't have a bunch of stories just halfway completed. It's about time that I recommit to these books and finally finish their stories!
What do you think? Do you have a problem finishing series or do you race through them to find out what happens in the end? Are you like my mom and turn to the last page of a book first? Or does the thought of something you love ending make it hard to pick up at all? Do you know how to fix my problem?! Let me know what you guys think!! In the meantime, here are a few of the series that I have started and have not yet finished (but what to).



See? I'm totally embarrassed! But I'm also so afraid of finishing these that I'm stuck! It's a horrible problem but I'm going to start working to correct it. It should maybe be noted that of those 19 series I showed, I own the complete series for 10 of them. So I certainly don't have a problem buying the books, just not reading them. Also, it adds up to 31 books that I'd need to read to complete just these series. That's kind of a lot. At my currently reading pace, if I only read these books, it'd take me till about January to get them all done. So I can't focus on just them. But I will start finishing them. One by one. And by this time next year I hope to have at least half of them completed.
So now we get to the real question is: which series do I finish first?!